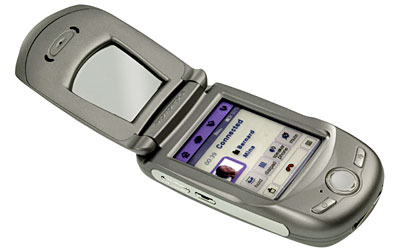 Motorola announced today the Motorola A760, the world's first handset combining a Linux Operating System (OS) and Java Technology, with full multimedia PDA functionality.
The Motorola A760 is designed to offer a rich end-user mobile experience based on the open source OS. Motorola's leadership in Java technology coupled with the Linux OS, arms mobile developers with an increased freedom to create new Java applications, from games to productivity tools, for smart devices like the A760.
The A760 is Motorola's first handset demonstrating the company's commitment to making the Linux operating system a key pillar of its handset software strategy. The strategy fosters innovative applications, which helps lead to increased revenue and differentiation opportunities for operators around the globe.
The Motorola A760 combines the ideal features of a mobile phone with the capabilities of a personal digital assistant (PDA), digital camera, video player, MP3 player, speakerphone, advanced messaging, instant Internet access and Bluetootho wireless technology. Packed into one compact device with a vivid color touch-screen, the Motorola A760 excels in information management as well as communication services to offer the voice, text and entertainment services to help meet the needs of today's multi-tasking mobile consumer.
The Motorola A760 is a solution that reaches everyone from business executives to music buffs. The handset's open OS and extensive PIM/PDA system are engineered to provide necessary tools to keep users on top of their schedules with the ability to sync back with office computers via secure Over the Air (OTA), Bluetootho wireless technology, Infrared or USB connections.
The Motorola A760's integrated camera is engineered to provide a convenient and fun way to capture shots of life's imust-seei moments. Additionally, the model A760's color touch screen is an ideal medium to share new pictures, play games or review documents. Utilizing the handset's advanced messaging, users can also send messages attaching pictures, animations, ring tones and more to users' compatible mobile phones or PCs. The Motorola A760 allows for customization inside and out, including the option of a variety of colorful housings and display wallpapers.