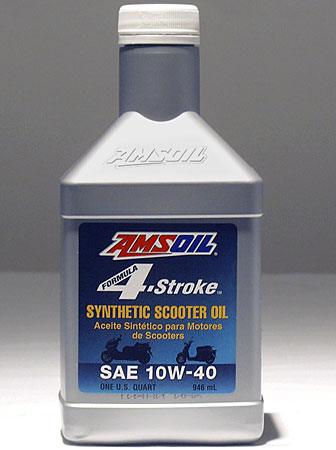 AMSOIL 10W-40 Formula 4-Stroke Synthetic Scooter Oil is formulated specifically to meet the special needs of today's high tech air-and water-cooled four-stroke motorized scooters, offering unsurpassed wear protection and friction reduction for longer equipment life and cooler operating temperatures. Its shear stability ensures consistent viscosity protection and provides protection for transmissions and gear boxes, while its friction modifier-free formulation ensures wet clutch compatibility and smooth clutch operation. An anti-corrosion additive provides protection during periods of inactivity and storage.
The 4-stroke synthetic scooter oil is recommended for air-and water-cooled four-stroke motorized scooter engines calling for a 10W-40 viscosity, as well as transmissions and gear boxes calling for a 10W-40 motor oil, including Honda, Kawasaki, Suzuki, Yamaha, Vespa, Aprilia, and Piaggio.
The scooter oil provides wear protection, cool engine operation, shear stability, low oil consumption, fuel economy, and guards against rust, corrosion, and deposit formation.