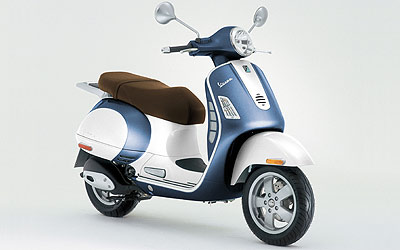 Paramount Pictures and Piaggio have partnered to jointly support the release of Alfie and the all-new 2004 Vespa Granturismo 200 through combined national and field marketing efforts.
Alfie is the tale of a philosophical womanizer who is forced to question his seemingly carefree existence. Ultimately, his freewheeling lifestyle begins to slowly unravel in this stylistic cinematic experience.
In the film, Alfie drives a 60s-era 160 GS Vespa scooter as his stylish mode of transportation throughout New York City. The collaboration between Paramount and Piaggio USA is designed to spotlight the contemporary re-invention of Alfie as created with acclaimed director Charles Shyer at the helm, as well as the all-new look of the 2004 Vespa Granturismo.
"We are thrilled that Vespa is included in the modern version of Alfie and to be doing this promotion with Paramount," says Paolo Timoni, CEO of Piaggio USA. "To have Jude Law's character driving around New York City on a Vespa shows how stylish, fun and functional the scooter really is."
"The partnership between Alfie and Piaggio is a natural fit for us," says Lisa DiMarzio, Senior Vice President of Worldwide Marketing Partnerships for Paramount Pictures. "We've developed an exciting, diverse cross-promotion that has national reach, as well as local activation to support the irresistible charm of Alfie and the Vespa Granturismo."
From September through November, Piaggio USA and Paramount will launch multiple marketing initiatives on several platforms. On September 25, 2004, a specially co-branded Alfie/Vespa poster supporting the association appeared in all 66 participating Vespa dealerships nationwide, and will be supported with field activities in local markets, including a direct mail piece which will drive consumers into the dealerships to pick up their free movie cash certificate, while supplies last, to see Alfie in theatres.
Piaggio USA has also customized six Alfie-themed 2004 Vespa Granturismo scooters that have been uniquely designed to match the vintage look of the Vespa that was used in the movie. The six Granturismo scooters will be used for prizing, including a national giveaway through an on-air partnership with E! Entertainment, which launched on October 1, 2004, and an online sweepstakes.
Additionally, an overlay with the high-end retailer Barney's was also incorporated into the cross-promotion. From September 21 through October 18, 2004, Barney's window campaign in NY and Los Angeles promotes the release of Alfie and includes an Alfie-themed 2004 Vespa Granturismo.
The Granturismo is the biggest, fastest, most powerful and technologically advanced Vespa that Piaggio has produced, offering comfort and performance on even the longest of rides. With a large steel body and 200cc engine, the Vespa Granturismo is the perfect mix of classic Vespa style and state-of-the-art technology.
In addition to its 200cc engine, this is the first Vespa to have a four-stroke, four-valve, liquid-cooled engine, as well as 12-inch wheels, a two-disc brake system and a 20 hp maximum power output. This allows for exceptional agility and ease-of-use, especially in city riding, and an engine configuration that offers top performance, brilliant acceleration and a maximum speed of over 70 mph. The Granturismo exceeds CARB standards.
Manufactured by Piaggio in Tuscany, Italy, the first Vespa was designed in 1946 by Enrico Piaggio as a solution to transportation following the destruction of World War II. Combining the best elements of aeronautics, automobiles and motorcycles, it instantly became an icon of design and economy. In 2000, after a 15-year hiatus, the fabled Italian scooter returned to the United States through Vespa USA to entice new generations with its efficient, entertaining and still nostalgic nature.
Alfie opened nationwide on November 5, 2004.