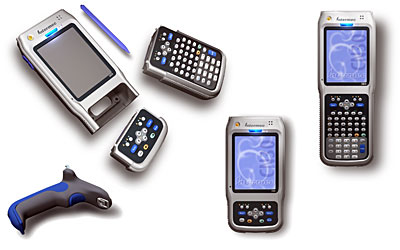 Until now, retailers too often have been forced to rely on a variety of application-centric, proprietary technologies for their store operations and store management applications. The result has been a combination of mobile devices, operating systems and software development tools that have made it difficult, if not impossible, to reduce support and training costs. Intermec's new modular mobile computer system changes that.
The Intermec CN30 offers an entirely new approach to retail enterprise mobile computing, one that maximizes flexibility, increases return on investment and lowers investment and supporting costs. The modular design allows users to easily build the device they need, delivering incomparable versatility in a standards-based common platform for all store management and operations applications.
At the core of the platform is its computing console -- the common intelligence and display of the device -- to which users add modules that differ in function, length and keyboard complexity according to intended purpose. Modules can be permanently attached, changed daily, or converted over time as applications and IT strategies evolve.
Available at launch are a fourteen-key module that transforms the CN30 into a rugged PDA with mostly graphic navigation, a full alphanumeric 56-key module for key-oriented applications such as terminal emulation for inventory management, and a universal pistol-grip handle with trigger for scanning. All keypad modules have a common look and feel and easily attach/detach with a secure latch. Once attached, the CN30 performs as a one-piece unit, surviving rough handling and exposure to dirt and moisture.
The ADC industry's first full-screen, display's 640 x 480 pixel high-resolution VGA color display provides easy navigation and optimal visibility for today's most demanding retail application programs, whether traditional text-based emulations or fully graphic Web pages.
"The modular convertibility and competitive pricing of the CN30 means convenience and flexibility, as well as lower acquisition and total lifetime costs," said Mike Colwell of Intermec. "Retailers will require fewer units, since they can be reconfigured for seasonal deployments or store restructuring. And service expenditures, sparing costs and employee downtime are lowered by changing modules in the event of a failure instead of taking a whole unit out of service."
The system also features:
Bright, one-touch backlight access and user-selectable ambient light control.
A linear imager for quick bar code scanning.
Wireless data communications via a 802.11b/g radio and Bluetooth.
Voice communications via its integrated speaker and microphone.
Microsoft Windows Mobile operating system.