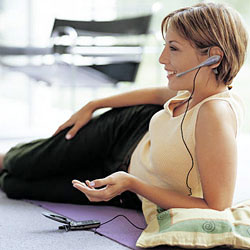 Plantronics announced a host of new products that fulfill a wide spectrum of user needs, ranging from first-time mobile users to office professionals. One of these new offerings is the the Plantronics M220 Mobile Headset, which provides stability, comfort, and quality sound. It features a flexible earloop for optimal fit, and is compatible with most headset-ready mobile phones. Plantronics is also introducing the new S11 office product.
Plantronics continues to expand its product family to meet the ever-growing demand for hands-free convenience and comfort from virtually all market sectors. Its easy-to-use products enhance communications and improve efficiency and productivity for all levels of users, with features tailored to the unique needs of each market.
The stylish new M220 Headset Series includes models for both mobile and cordless phone users. The M220 headsets feature an over-the-ear, adjustable earloop for comfort and stability and a boom-style, noise-canceling microphone for clear calls.
"We're committed to delivering leading-edge capabilities and superior audio quality to the broadest range of users, as shown by our expanded product suite," said Beth Johnson, senior director of product marketing for Plantronics. "Our extensive industry expertise enables us to deliver solutions that satisfy our customers' needs, whether they're road warriors, small business owners, or new mobile phone users."
Plantronics introduced the first lightweight communications headset in 1962.