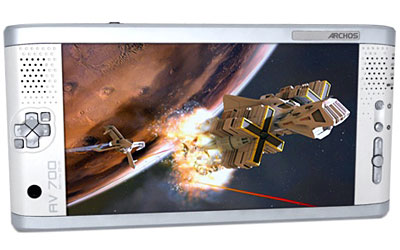 The newest DVR from Archos combines the mobility and wide screen of a portable DVD player with the video recording and scheduling features of a digital video recorder. The Archos AV 700 is the only portable video player to enable direct video recording onto a 100-gigabyte hard drive, which makes up to 400 hours of video or 250 movies available for viewing anytime, anywhere.
The Archos portable DVR makes it fast and easy for consumers to get content onto their devices without using a computer. In addition to direct video recording, the DVR enables consumers to schedule recordings in advance or while they're away, and view them on a bright, 7 inch LCD wide screen display. The combination of the video recording, scheduling, tremendous hard drive capacity, wide screen and other features -- such as music and photo playback and gaming applications -- make the device the perfect portable device for families, travelers, gadget enthusiasts and anyone gearing up for their summer vacations.
"We are extremely proud of our latest portable video innovation, the AV 700, because it brings together several popular digital entertainment products in one portable device," said Henri Crohas of Archos. "The AV 700 is designed to allow favorite TV shows and movies to be taken from the living room to the road, providing hundreds of hours of playback on a tremendous 7" wide screen display. We expect the AV 700 to be the travel companion for families vacationing this summer as well as business travelers who want to take their TV shows, movies or sporting events on the road."
The Archos mobile DVR lets you digitally record TV programs, movies directly from your TV, VCR, DVD player, cable box or satellite receiver using the new Archos TV Docking Pod. The new Docking Pod connects directly to your video source, allowing TV shows and movies to be recorded easily onto the device. The device encodes in and plays back MPEG-4 videos with MP3 stereo sound. The unit also allows you to transfer home movies onto the device using the USB Host port connected to a camcorder.
With the system, you can also schedule recordings for the week or month ahead, just as you would a standard DVR. Once programs are scheduled on the device, the integrated scheduler controls the tuner inside your VCR, cable box or satellite receiver to automatically adjust the channel and record based on the time and duration of the schedule.
Record between 40 and 250 full-length movies -- up to 400 hours of video -- in MPEG-4 at DVD quality, with CD quality stereo sound directly from a TV, DVD player, VCR, or cable box. Schedule recordings in advance or to record while you're away.
Archos introduces its first 7 inch wide screen display and integrated kick-stand for propping up the player and viewing content easily.
Store and view up to one million JPEG photos and view several at a time or in slide show mode. Transfer photos from computers using USB 2.0 or from digital cameras directly using the USB Host connection.
The device can synchronize automatically with Microsoft Windows Media Player 10 and is included in the popular Microsoft PlaysForSure program, enabling you to play purchased, downloaded and subscription content from such services as MSN Music, Musicmatch, Napster, Wal-Mart Music Store and CinemaNow.
The digital music player lets you record up to 300 hours of music, and holds up to 55,000 songs, with playback in MP3, WAV, WMA or protected WMA formats.
The digital video recorder features the popular Mophun games and the ability to purchase additional games from the Archos Web site.
The DVR is available in 40 and 100 gigabyte models, allowing between 160 and 400 hours of video, 250 movies, 55,000 songs or one million photos.
The portable DVR has a USB Host port, enabling you to connect to any mass storage device, including digital cameras, card readers, USB keys and portable hard drives, and transfer files directly from device to device.
The Archos AV 700 Mobile DVR will be available in June 2005 at major retailers worldwide and from the Archos web site at www.archos.com. Pricing for the AV 700 is $599.95 and $799.95 for the 40-gigabyte and 100-gigabyte models, respectively.
The AV 700 comes standard with a TV docking pod, AV cables, remote control, protective case, headphones, USB 2.0 cable, USB host cable adapter and power adapter. Optional accessories include a back-seat car holder, double headphone kit, travel kits, additional docking pod, USB mini game pad, additional batteries and other add-on products.
Archos develops digital pocket-sized products that enable audio and video recording, photo viewing, gaming, and other multimedia and productivity applications.