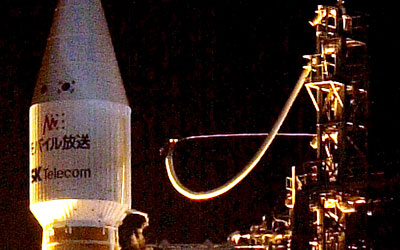 An International Launch Services (ILS) Atlas III rocket blasted off early this morning, successfully orbiting the MBSAT satellite for Space Systems/Loral (SS/L). This was the 70th consecutive successful flight of an Atlas vehicle, and the second launch of the year conducted by ILS, a Lockheed Martin joint venture.
Liftoff was at 12:40 a.m. EST, and the SS/L 1300 model satellite separated from the rocket 29 minutes later. SS/L built the satellite and contracted with ILS to deliver it in orbit for Mobile Broadcasting Corp (MBCO) of Japan and SK Telecom of Korea. The state-of-the-art satellite will deliver digital multimedia information services such as CD-quality audio, MPEG-4 video and data to mobile users throughout Japan and Korea.
"This is a landmark launch for the Atlas team," said ILS President Mark Albrecht. "The Atlas rocket has a perfect record over more than a decade, but we'll never get complacent. We still take it one launch at a time, and that discipline and dedication is what has given us the world's most reliable vehicle."
This was the fifth flight for the Atlas III vehicle, is one of three Atlas models currently being flown. It is a transitional vehicle between the Atlas II series that has been flying since 1991, and the powerful Atlas V, which made its debut successfully in 2002. The Atlas II, III and V families have achieved 100 percent success since mid-1993.
Albrecht noted that this is the 21st SS/L-built satellite launched by ILS vehicles, which include not only the Atlas family but also the Russian-built Proton rocket. ILS is a joint venture of Lockheed Martin, which builds the Atlas rocket, and Khrunichev State Research and Production Space Center, which builds the Proton vehicles.
The MBSAT satellite will be positioned at 144 degrees East longitude, where it will deliver high-quality music, video and data to mobile users in Japan and Korea through a variety of mobile terminals, including those in cars, ships, trains, handheld terminals, personal digital assistants, cellular phones and home portables. A very small antenna will be sufficient to receive these broadcast signals even inside buildings and in vehicles moving at high speeds.
"The MBSAT satellite will host one of the most cutting edge applications driving the satellite industry beyond basic broadcasting," said C. Patrick DeWitt, president, Space Systems/Loral. "SS/L has built a reliable, powerful and flexible spacecraft that will provide numerous multimedia applications in Japan and Korea for years to come."
The satellite carries two high power transponders for direct broadcasting services, with one transponder providing coverage for Japan and the other for Korea. Two additional transponders provide links to terrestrial repeater networks, which augment the satellite broadcast signal. Each transponder has an operating bandwidth of 25 MHz, allowing more than 50 channels of audio, video and data services.
The new spacecraft uses SS/L's space-proven three-axis, body-stabilized 1300 bus, tailored for the MBSAT payload. This payload combines high power phase matched transmitters with a 12-meter unfurlable reflector, providing exceptional coverage and quality of service. SS/L's satellites are designed to achieve long useful orbital life through use of bipropellant propulsion and momentum-bias systems for excellent stationkeeping and orbital stability. The MBSAT on orbit performance is further enhanced by use of Stationary Plasma Thrusters for orbital maneuvers. A system of high-efficiency solar arrays and lightweight batteries provide over 7400 watts of uninterrupted electrical power over the 12 years of satellite life.