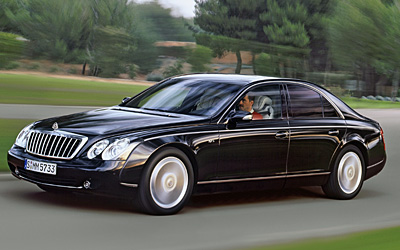 A new high-performance Maybach 57 S debuted at the Geneva Motor Show. The new 57 S model builds on the successful Maybach platform, making the world's finest super-luxury sedan feel even more like a sports car. In addition to flatter cornering and crisper steering response, the Maybach 57 S can accelerate from 0 to 60 miles per hour in less than five seconds, and is capable of reaching a top speed of about 172 mph. Unique exterior and interior appointments help identify this remarkable performance car.
With the S standing for special, the new 57 S has been developed in response to customers who have expressed interest in a Maybach with even higher performance than the standard 57 model. The 57 S is expected to attract an eclectic mix of affluent buyers, many of whom currently own exotic sports cars.
The new 57 S model features a higher-performance version of the Maybach twin-turbo, intercooled V12 engine. Designed and hand-built by AMG, the 57 S powerplant displaces six liters, a half liter more than the standard engine. With higher turbo boost pressure and other modifications, the 57 S engine produces a stout 604 horsepower as well as 738 pound-feet of torque from as low as 2,000 rpm. Revised ESP stability control and traction control programming help make the most of the additional power.
In keeping with the car's high-performance character, the Maybach 57 S rides about a half inch lower, with firmer air suspension and stiffer shock absorbers as well as thicker stabilizer bars. The new sport chassis provides even more impressive handling without unduly compromising the car's whisper-smooth ride.
The limited-edition Maybach 57 S comes in a choice of a unique black or silver paint and can be identified by new 11-spoke, 20-inch alloy wheels with 275/45 R 20 Michelin Pilot Sport tires, as well as a more aggressive grill, body-color headlight surrounds, chrome-trimmed fog lights, rectangular dual exhausts and 57 S badging on the trunk lid and front fenders.
Inside, the 57S makes a bolder design statement with a choice of Black or Ivory White Grand Nappa Leather seats, both embellished with dynamic black piping. Equally distinctive is true carbon fiber trim complemented by piano lacquer, which replaces the fine woods that usually set the tone for Maybach interiors. As an alternative to the carbon fiber trim, Maybach customers can also choose a black poplar wood trim which will debut on the 57 S and will only be offered on this special model.
The Maybach name honors Wilhelm Maybach, who worked closely with Gottlieb Daimler in the late 19th century to build the first internal combustion-powered automobiles and went on to design the first Mercedes car. Considered the first modern car, the 1901 Mercedes was a tremendous leap ahead of horseless carriages of the day. Wilhelm's son Karl was also an engineering mastermind who developed and put the Maybach name on 1,800 of the finest custom-built luxury cars in the world from 1921 to 1941.
When it was re-launched in 2003, the Maybach brand marked the return of the true commissioned car, a vehicle built precisely to a customer's specifications. Customers commission a new Maybach at one of 70 Mercedes-Benz dealers that have elected to sell and service the vehicles in the U.S. In a special commissioning studio, the dealership's Maybach Relationship Manager helps the customer design a Maybach using an interactive computer simulator with a 50-inch plasma screen, along with samples of select Maybach wood, leather and paint finishes. It takes approximately four months to construct and deliver a Maybach, and this deliberate production pace allows Maybach to accommodate individual customer choices, such as special interior fittings and trim as well as extensive handcrafting.
The Maybach was designed to drive like a private luxury jet for the road. Innovations adapted from sister brand Mercedes-Benz help to ensure that braking, handling and safety match such performance.
The array of technology includes ESP stability control, SBC electronic braking, Airmatic DC air suspension, and a supplemental restraint system with 10 airbags. On the Maybach 57 S, the ESP stability control and ASR traction control systems are specially tuned to make the most of the increased power and complement the new model's high-performance driving capability.
The private jet analogy also applies to the Maybach interior, where a multifunction center console between the rear seats houses a standard-equipment DVD player, VHF TV tuner, six-disc CD changer, telephone system, a refrigerator, and even a sophisticated system that holds a champagne bottle and two flutes securely in place.
The interior is outfitted with the finest materials available, including hand-fitted Grand Nappa leather, nubuck leather trim, Alcantara-trimmed headliner and pillars, deep-nap velour carpeting and a choice of three fine woods – cherry, amboyna or walnut. All four seats are heated, with active ventilated seats available. Power rear window curtains provide a measure of privacy for the occupants.
Specialist suppliers trim to size more than 200 leather sections for every Maybach and sew them together into 62 larger pieces – all by hand. 100 fine wood trim sections tastefully embellish most of the surfaces in the doors, center consoles and even the cabin ceiling. All are carefully handcrafted and individually selected by experienced specialists to ensure matching grain and shade.
All four doors of the Maybach feature an infinitely adjustable hydraulic retainer system that helps prevent the doors from knocking against obstructions in tight parking places. A standard power-closing feature pulls the door closed from the first detent position. Standard on the Maybach 62 (optional for the Maybach 57 and 57 S) is a full power door-pull feature that pulls the doors closed from fully open.
Ambient interior lighting creates a pleasant, diffused lighting effect that remains switched on even when the car is moving, providing a more intimate and relaxing atmosphere for passengers.
An optionally available electro-transparent rear roof section for the Maybach 62 is lined with an electro-luminescent membrane that, when switched on, emits a pleasant, diffused light. Rear passengers can control the panel's lighting intensity.
Rear seats in the Maybach 57 and 57 S include power adjustments for seatback and cushion angle, plus head restraint height and angle. In the Maybach 62, individual rear seat recliners provide full body support even for a tall passenger. Pressing the Pulse button provides an air-driven gentle back massage. Folding tables, standard on the Maybach 62 and optionally available for the Maybach 57, are made from machined aluminum with a two-part surface veneered in fine wood and with undersides covered in Nappa leather.
For the Maybach 62, an optional glass partition between the front and rear operates at the touch of a button, and for added privacy, a curtain can be drawn across it. When so equipped, the Maybach 62 also includes an intercom to allow the rear passengers and chauffeur to communicate. A classic touch in the rear compartment of both Maybach models is a binnacle between the B-pillars that houses an auxiliary speedometer, outside temperature gauge and clock.
In less than two years, the re-invented Maybach brand can boast well over 400 cars on U.S. roads – an impressive launch for an entirely new brand that competes with yachts, private planes and vacation homes as much as it does with other super-luxury cars. Maybachs are sold and serviced exclusively by 70 Mercedes-Benz dealerships that have elected to offer the brand. The standard four-year/unlimited mileage warranty includes a maintenance plan, subscription to Tele Aid services and pickup/delivery for service work.
The Maybach 57 has a suggested retail price of $327,750, and the new 57 S is expected to be priced around $360,000 when production begins early in 2006. The long-wheelbase Maybach 62 retails for $377,750. All prices include a $2,750 destination fee that covers shipment from Germany in a special container as well as transport from the port to the Maybach studio in an enclosed truck.