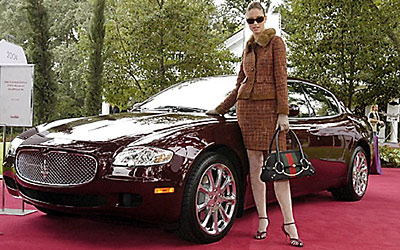 Neiman Marcus has included Maserati's $125,000 Limited-Edition 2005 Quattroporte luxury sedan for its famed Christmas Catalog. It is one of the more exotic gifts within Neiman's 97-year tradition.
With only 60 limited-edition vehicles, all hand-crafted, and with styling by legendary designer Pininfarina, this all-new NM Maserati Quattroporte, sets new standards for performance, style and distinctiveness in a luxury sports sedan. For this exclusive offering, Pininfarina personally chose his favorite colors, materials, and finishes -- and each one sold will bear his signature along side its owner's name on an individually numbered nameplate.
The Quattroporte's 4.2-liter 400-HP V8 engine can take you from 0-60 mph in 5.1 seconds with a top speed of 170 mph. It's the only luxury sedan in its class to place the engine behind the front axle, a race-proven technique that provides superior harmony between car and driver. Each NM Quattroporte features a new Bordeaux Pontevecchio metallic paint finish, unique chromed mesh-front grill and side vents and 19" polished wheels. Inside, the custom handcrafted interior surrounds occupants in luxurious ivory Poltrona Frau leather with bordeaux piping and mahogany wood accents.
According to Marco Mattiacci, vice president of marketing for Ferrari Maserati North America, the synergy between Maserati and Neiman Marcus goes well beyond the sale of its newest luxury item. "Both our buyers demand the highest quality standards, as well as the best-of-the-best, unique and often hard to acquire offerings," said Mattiacci. "As such, Maserati has been a part of Neiman's exclusive 'In Circle Rewards Program' and will continue to showcase the Quattroporte and its limited edition version through many in-store programs and various private receptions throughout the country."
Maserati's Quattroporte, making its entry into dealerships this month, has already been well recognized for its elegant design and invigorating performance with numerous accolades from the press including Robb Report's Best Luxury Sedan, as well as inclusion as one of Chief Executive Magazine's Ten Best Cars for CEOs.