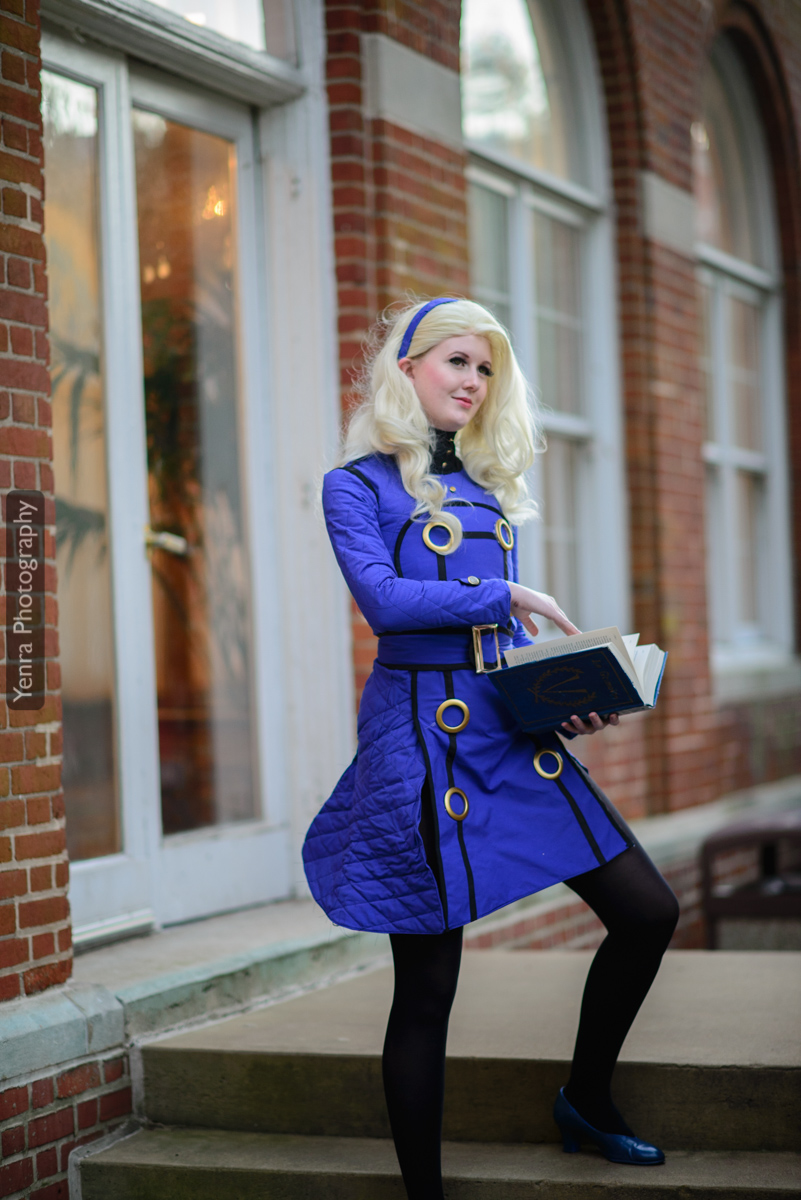 Margaret Persona 4 cosplay by Tsubasahime at Anime USA 2015. It was 10 after 6 on October 30th, the sun had just set and we went outside of chandelier alley in order to catch the last light of day.
About this picture of Margaret Persona 4 cosplay

| | |
| --- | --- |
| Artist | Yenra Photography |
| Lens ID | AF-S Nikkor 85mm f/1.4G |
| Lens Info | 85mm f/1.4 |
| Focal Length | 85.0 mm |
| Shutter Speed | 1/160 |
| ISO | 800 |
| Software | Adobe Photoshop Lightroom 6.3 (Macintosh) |
Persona 4 the game
Shin Megami Tensei: Persona 4 is a role-playing video game developed and published by Atlus for Sony's PlayStation 2, and the fifth installment in the Persona series, itself a part of the larger Megami Tensei franchise. Persona 4 was released in Japan in July 2008, North America in December 2008, and Europe in March 2009, and was later re-released on the PlayStation Network in April 2014.
Margaret of Persona 4
Margaret works as Igor's assistant. She appears alongside him in the Velvet Room, supporting Yu, replacing her sister Elizabeth when she leaves on a journey. After meeting her alone, she asks Yu to create a particular Persona using a certain fusion type skill, as a euphemism for drawing out corresponding aspects of Yu's personality. She seems very composed and dignified at first glance, although she actually has a silly and whimsical sense of humor.
Other appearances of Margaret
Margaret also appears in Persona 3 Portable, as the one in charge of the Vision Quest and can be fought as a boss. In Persona 4 Arena she guides Yu in his quest during the P-1 Grand Prix tournament. She is playable in the console version in Persona 4 Arena Ultimax via a DLC. There, she covertly helps the investigation team and the Shadow Operatives in the background, and observes Yu and Sho's final battle alongside her sister, Elizabeth.
Adaptations of Margaret
Margaret represents the player's Social Link to The Empress, which is symbolized in the anime adaptation by Yu Narukami's usage of the Persona Isis. Sayaka Ohara voices Margaret in the Japanese edition of the game. Michelle Ann Dunphy voices her in the English versions of the game, in the anime, and in the Golden remake, while Marisha Ray voices her in the English versions of Persona Q: Shadow of the Labyrinth and Persona 4 Arena Ultimax.
Cosplayer of Margaret from Persona 4
Tsubasahime