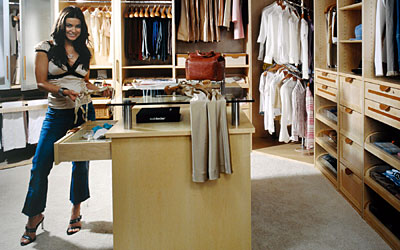 studiobecker, a leading manufacturer of high-end kitchen, bath and closet systems, is proud to be included in Carmen Electra's newly renovated Beverly Hills home with their Ultimate Wardrobe System. Electra recently added the studiobecker closet system to help organize her entire wardrobe and demonstrated the remodeling process of the installation on her hit television show, Livin' Large. She selected studiobecker cabinetry based on the luxurious, Italian design elements the wardrobe offers.
When the studiobecker wardrobe system was featured on the show, it showed the transformation of a room in Electra's home into the closet of her dreams and highlighted the ease of selecting numerous components and fashionable accessories the wardrobe system offers. The Livin' Large television show reaches 96 million households in the U.S. and spotlights the lifestyles of the young and rich.
"Everything about this closet, from top to bottom, is really special," said Carmen Electra. "There's a spiral rack for blouses and tons of overhead racks. The full-length mirror is unbelievable. Without it, I would stand up on a chair to check my outfits!"
studiobecker, known for high-end design in its kitchen and bath collections, brings the same attention to detail to the Ultimate Wardrobe System by offering German engineering and craftsmanship.
"We are pleased Ms. Electra selected studiobecker for her home wardrobe system and featured it on her show," said Roar Vaernes, studiobecker CEO. "The wardrobe system offers many accessories that enhance the modular system components, making each studiobecker wardrobe design one-of-a-kind and customer specific."
A pull-out mirror, as seen in Carmen's wardrobe system, is concealed between wardrobe panels and can be fully extended, then pivoted. Other standard studiobecker accessories including jewelry inserts and a hidden electronic safe are essential accessories offered to distinctively tailor each wardrobe system. Special attention is given to garments in studiobecker's Ultimate Wardrobe System when placed on specially engineered hangers.
"Our wardrobe system is designed and customized to meet each person's unique organizational needs," said Vaernes. "Because of its design, the Ultimate Wardrobe System can be retrofitted into existing closet spaces or easily incorporated into new home closet spaces thus offering the greatest flexibility of any luxury wardrobe system on the market today."
Designer clothing and accessories were presented to Carmen by studiobecker and added to her wardrobe system during a recent photography session. The designer collections included: Ann Ferriday, BeBe, Bellatoff Luggage, Edward Ann, Mandaley, Rigged by Barbara Schwartz, Sandro, Tommy Hilfiger and Zirconite Jewlery.
studiobecker is a leading European brand of high-end luxury kitchen and bath cabinetry, furniture and accessories, and luxurious wardrobe systems.