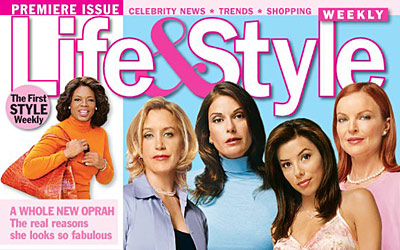 A new weekly style magazine has been launched with the premiere of Life and Style Weekly.
The first issue takes a stylistic look at those fashionable and notorious ladies of Desperate Housewives. From their style to on-set scoops, go behind the scenes of fall's sizzling new TV show.
Among the feature articles:
Is purple the new black? The A-List says yes. From Sarah Jessica Parker to Lindsay Lohan, here's how they do it and how you can wear the look anytime, anywhere.
A whole new Oprah. What's behind her stunning new look?
Looking for new shoes? Life and Style Weekly spotlights the twelve hottest heels for fall.
The Honeymooners. Britney Spears and new hubby Kevin Federline hit the sand and sun of Fiji.
Who's winning the style race: Laura Bush or Teresa Heinz Kerry?
Life and Style Weekly features the latest Hollywood fashion, beauty, and lifestyle trends merged with celebrity news and shopping. The goal: to celebrate celebrities, showcase their influence on popular culture and help readers incorporate the latest celebrity trends into their own lives. Life and Style Weekly offers a clean, elegant design with beautiful photos and fast-paced editorial. The magazine is published by Bauer Publishing.