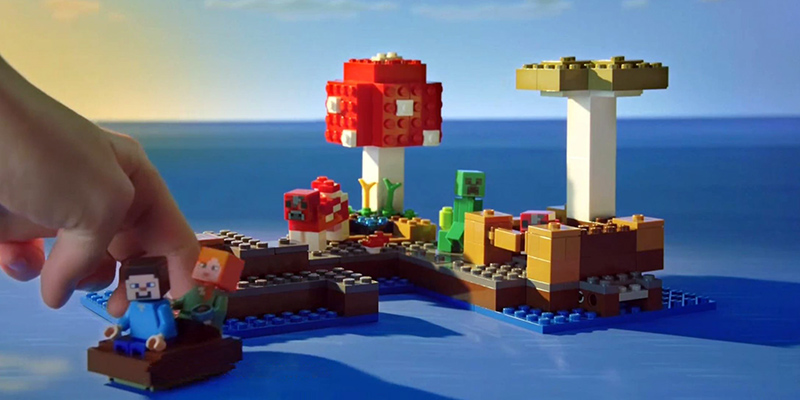 Lego Minecraft Ocean Monument - We go wherever the adventure takes us, compass in hand, even into the depths of the ocean, where a mysterious world awaits. The monument's tricks are nothing to those who wield a sponge and can sneak past the thievish guardian to find the legendary golden treasure. But the monument won't give up its riches so easily. More adventures await, with the new Lego Minecraft.
Features a Minecraft ocean monument with a water sponge access function and opening treasure chamber, plus a cave with a furnace. Includes two figures: Steve and Alex, and squid, guardian and elder guardian figures. Accessory elements include enchanted armor, golden blocks, wet and dry sponges, bucket of milk and a Potion of Water Breathing and a Potion of Healing. Easy-to-reconfigure design; choose from three different model configurations.
Battle the elder guardian that inhabits and defends this underwater structure. This set is designed for the enthusiastic, creative players of the video game, and has tons of potential for creative play. Give Minecraft players a new challenge by bringing their game to life while taking a break from the screen. Easy to redesign and reconfigure, it will keep the creativity going for hours. Lego Minecraft Ocean Monument makes a perfect gift for Minecraft and Lego building fans alike, bringing two creative worlds together.
Minecraft is a sandbox video game. The creative and building aspects of Minecraft enable players to build constructions out of textured cubes in a 3D procedurally generated world. Other activities in the game include exploration, resource gathering, crafting, and combat. Multiple gameplay modes are available, including a survival mode where the player must acquire resources to build the world and maintain health, a creative mode where players have unlimited resources to build with and the ability to fly, an adventure mode where players can play custom maps created by other players, and a spectator mode where players can freely move throughout a world without being affected by gravity or collisions. The PC version of the game is noted for its modding scene, where a dedicated community creates new gameplay mechanics, items, and assets for the game.