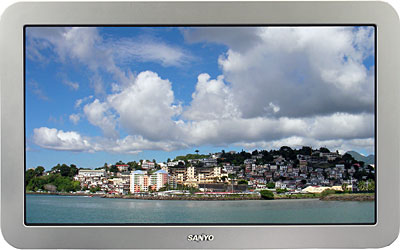 Sanyo has introduced two 16:9 widescreen LCD high-definition televisions, 32-inch model SLT-3276S and 26-inch model SLT-2676S, featuring integrated HDTV tuners with Clear QAM and Time Domain detachable speaker systems.
Sized to enjoy high-definition content in the home or office, the new Sanyo LCD TVs produce a stunningly clear and detailed high-definition picture. Setup is quick and easy. Users can choose the included, detachable stand for convenient tabletop viewing or simply hang it on the wall.
Both sleekly designed, flat-panel displays come with dual detachable speakers. These unique, cylindrical speakers feature Sanyo's Time Domain technology engineered to faithfully reproduce the original audio source. The enhanced audio performance reproduces voices and music with remarkable clarity and without the unwanted distortion and resonances of conventional speaker enclosures.
Both Sanyo LCD HDTVs feature removable bezels, allowing the user to choose from additional colored bezels to complement interior decor.
Sanyo manufactures and distributes consumer and commercial electronics.