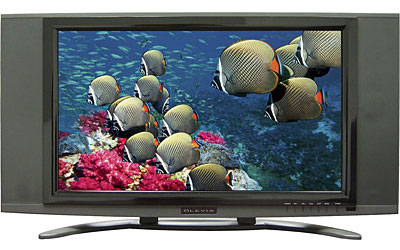 Syntax Groups announced its dramatic 2004 sales results, previews 2005 LCD TV and LCOS TV models including a new 26-inch unit, and strategic alliance with LG Philips LCD for premium level LCD TVs.
Since commencing sales of Olevia LCD TVs in April 2004, Syntax has shipped over 97,000 units to retailers and achieved a position in the top five USA LCD TV vendors. Sales during the hot Q4 2004 holiday buying season accounted for nearly two-thirds of the total units indicating strong consumer demand for the unique value that Syntax's Olevia brand brings to the digital living market.
According to DisplaySearch President Ross Young, "Syntax Groups' Olevia brand is one of the fastest growing LCD TV brands in North America. We believe its market share doubled to 8% in Q4'04. The company continues to introduce premium products at attractive prices resulting in increased penetration in each segment it enters. The introduction of its new 32" and 37" S-IPS models establish new price points in these segments and should continue to result in rapid growth."
At CES, Syntax unveils several new Olevia LCD TV and LCOS TV models for 2005 that extend the range of TV sizes, features and pricing options to fit consumers' preferences and space requirements. During the first half of 2005, Syntax plans to roll out Olevia LCD TVs ranging from new space-efficient 20-inch units to several models with "Super-IPS" technology from LG Philips LCD to deliver a premium widescreen viewing experience.
Syntax introduces newly-designed Olevia 20-inch LCD TVs (LT20S and LT20SD) featuring 500:1 contrast ratios, 800x600 resolution, 12ms response times, VGA and component inputs, plus a built-in DVD player included in the LT20SD model.
With a rich spectrum of specifications in its thin, flat LCD panel design, Syntax announces the new 26-inch HDTV-ready Olevia LCD TV (LT26HVE). Priced at $899, the 26-inch model features a high quality widescreen packaged in an attractive black bezel, and delivers sharp 1280x768 (WXGA) resolution, 750:1 contrast ratio, 700 cd brightness, de-interlaced up to 1080i, a wide 170/170 viewing angle, 12ms response time, 15:9 wide aspect ratio with progressive scan, HDCP DVI, VGA and component inputs, single NTSC tuner, 3D comb filter and 3:2 pulldown.
Among Syntax's high end Super-IPS based Olevia LCD TVs is a new HDTV-ready 32-inch Olevia (LT32HVE), featuring 1366x768 resolution, 8ms typical response time, de-interlaced up to 1080i, 16:9 aspect ratio, and VGA and component inputs.
Syntax will also introduce its first 1080p HD-compatible 37-inch (LT37HVDP) and 42-inch (LT42HVE) models featuring 1920x1080 resolution, 1200:1 dynamic contrast ratios, 8ms typical response times and built in ATSC tuners, plus 37-inch (LT37HVD) and 42-inch (LT42HVE) 1080i models with resolutions of 1366x768.
Also previewing at CES is a 61-inch LCOS (Liquid Crystal On Silicon) TV featuring an eLCOS 1080p three-panel engine architecture that achieves brighter, smoother cinema home entertainment pictures with contract ratios greater than 1500:1 and brightness level higher than 1000 nits.
Syntax Groups and LG Philips LCD have entered into an agreement to provide advanced Super-IPS display technology for all of Syntax's Olevia large-size LCD TV products including the 32-inch, 37-inch, 42-inch and future models including 47-inch and 55-inch units.
"Each of our companies are excited about the emerging HDTV market and the many opportunities to provide larger and wider flat TVs to consumers," said James Li of Syntax Groups. "Together, these HDTV solutions should provide some of the highest image quality displays and best value propositions for this emerging sector of the consumer electronics market."