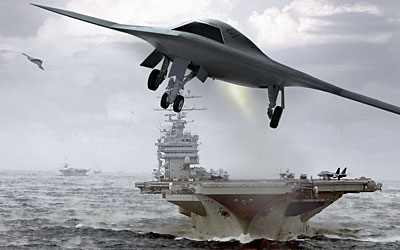 Northrop Grumman has selected Smiths Aerospace to supply the Landing Gear System for the X-47B Joint Unmanned Combat Air Systems (J-UCAS) aircraft.
Dr. John Ferrie of Smiths Aerospace commented, "Smiths selection as a tier 1 supplier for the X-47B J-UCAS underscores the value of our recent acquisition of Integrated Aerospace. Our combined offering enable us to provide a complete landing gear system for the J-UCAS and for the rapidly expanding UAV market."
The system is uniquely designed to endure the challenges and rigors of catapult take-offs and arrested landings on aircraft carriers at sea. Smiths is responsible for the design, development, certification and manufacturing of a fully integrated system. Due to the demanding mission profiles required for this advanced carrier platform, the landing gear system will incorporate the latest technology advancements in hydraulically actuated steering control as well as anti-skid braking systems and corrosion resistant materials.
The landing gear system includes:
Electrical power generation and distribution systems
Fuel measurement and management
Ground-based data link computer
Holdback bar mechanism for the carrier catapult system
Mission management computers
Remote input-output units
Retraction actuation for the landing gear
Vehicle management computers