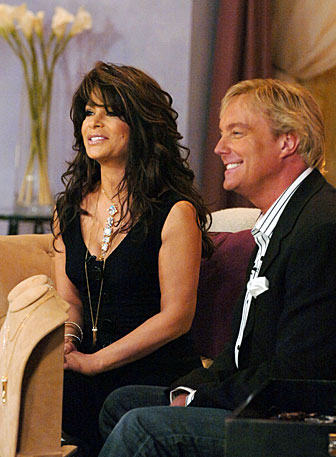 Recording artist and American Idol judge Paula Abdul launched the Paula Abdul Jewelry Collection April 21 on QVC, during which nearly 34,000 units were ordered.
Designed by Paula Abdul, the line is an eclectic mix of necklaces, charms, bracelets and earrings that feature different metals, textures and finishes. Delicate charms are a focal point of the collection, and feature meaningful messages and symbols that inspire a positive attitude.
Abdul arrived early to the broadcasts to greet audience members and thank them for coming. She surprised and delighted the crowd even further during the broadcast when she walked through the aisles to give unsuspecting fans pieces from her collection. Paula stayed for hours after to do a meet and greet with the group.
Abdul was on the receiving end of a surprise when taking a call from a QVC customer at home. She was delighted that her mother Lorraine was the caller, who congratulated her and wished her success.
"I wanted to share my creative vision and passion for jewelry with people everywhere, and QVC was the perfect way for me to do so. I hope the messages in my pieces prove to be sources of inspiration and that whomever is wearing the jewelry feels the joy I experienced in creating it," said Paula.
"We knew that Paula's jewelry would resonate with the QVC customer," said David Markstein, director of jewelry merchandising for QVC.
"She captivated the audience with her sense of style and passion for the collection, and it is easy to see how much of herself she put into designing each piece. We are thrilled with the results, and look forward to bringing her next creative vision to life."
Paula Abdul's has sold 50 million copies and is a gifted choreographer in film, television, stage, video, and live performance tours.
QVC markets a wide variety of fashion, beauty, and jewelry products.