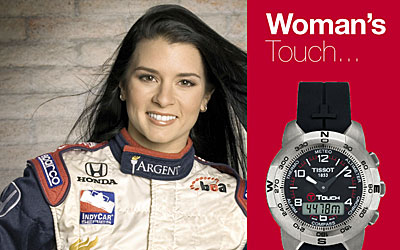 Danica Patrick of the Indy Racing League (IRL) has become the new face of the Tissot Swiss watch brand. She will appear in marketing and advertising beginning in November, and her face will grace materials at all of the brand's points of sale.
She was the first woman to ever lead the Indy 500 for a lap, and she finished fourth, the highest ever finish by a woman driver at the Indy 500. She was also the first woman to capture a podium result in the history of the Atlantic Series in Monterey in 2003, where she finished third.
Patrick will showcase Tissot's newest product lines. Patrick has a diverse lifestyle that reflects Tissot's current product line. Tissot's models include sports watches, fashion watches, and high-tech pieces.
"As an IRL driver, keeping track of time is a big part of my life - it's what I race against and race for. Even when I'm not on the track, I keep track of time, and the first high-quality watch I bought when I started racing professionally was a Tissot. My familiarity with the brand makes this partnership feel natural," said Patrick.
Patrick illustrates Tissot's claim of performance by tradition and the brand's values of innovation, precision, and pushing yourself to your limits. Patrick's image will appear in all stores that carry Tissot products starting in December and will also begin appearing in print ads and billboards beginning in November.
Tissot, official timekeeper for several world sports championships, has been making watches for over 150 years.