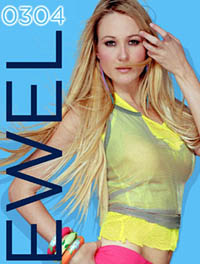 In the same week that Atlantic Records occupies the #1 spot on The Billboard 200 with Led Zeppelin's "HOW THE WEST WAS WON," Atlantic recording artist Jewel has exploded out of the box with her eagerly awaited new album, 0304.
In only its first two days at retail, the album instantly became the #1-selling album in the U.S., putting Jewel on track to have the highest-debuting album of her career on next week's SoundScan and Billboard 200 current album charts.
The enormous initial demand for "0304" has been fueled by the success of the album's first single, "Intuition," which is bulleting rapidly to the top of the national CHR/Pop and Top 40 Adult/Hot AC airplay charts. The song's acclaimed companion video is also garnering major play on MTV and VH1, where it is in X-Large rotation and ranked at #10 on the "Top 20 Countdown." Jewel has been the subject of extensive media coverage heralding the release of the new album, highlighted this week by an eve-of-release performance of "Intuition" on NBC-TV's The Tonight Show with Jay Leno.
Atlantic is equally hot on the singles front, as the company scores with three out of the Top Ten on the latest Billboard Hot 100 chart (issue dated June 14th), more than any other label. Sean Paul's latest VP/Atlantic smash, "Get Busy," which spent three weeks in the #1 spot, holds on to the #2 spot for the third consecutive week. Big Entertainment/Queen Bee/Atlantic artist Lil' Kim jumps up to #5 with a bullet with her collaboration with 50 Cent, "Magic Stick," and Melisma/Atlantic rock group matchbox twenty hits #10 with a bullet with "Unwell." Ranking just one spot out of the Top Ten is VP/Atlantic artist Wayne Wonder, whose "No Letting Go" holds at #11.