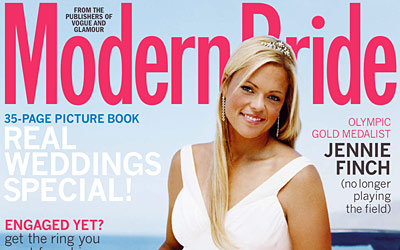 Olympic gold medalist Jennie Finch, voted by ESPN as Hottest Female Athlete, is no longer playing the dating field, and she makes this even more evident as the current cover model for Modern Bride magazine. Engaged to Casey Daigle, pitcher for the Arizona Diamondbacks Triple-A team, Finch took time out from her pre-Athens excitement to slip into an Amy Michelson bridal gown for the Modern Bride photo shoot on a beach in Santa Monica, California and answer questions about her engagement and the upcoming wedding.
Jennie recently has been selected to model the latest Sak Handbag collection.
24-year-old Finch admits to first turning Daigle down when he sent her five dozen roses and a note asking her to dinner while they were in college at the University of Arizona. After her polite, "I don't think so," they kept running into each other, and eventually Finch gave in to a date.
"The past two years have been pretty crazy," says Finch of her and Daigle's schedules. "Our lifestyles have changed since we met two years ago. All of a sudden, I was on the Olympic team, traveling here and there, and he was in the big leagues." Their relationship has endured the typical long-distance romance of on-the-road athletes. "Seeing Casey more than three days in a row, and not going to bed in different cities with cell phones connected to our ears . . . we're looking forward to that," Finch says.
Daigle's proposal to Finch had all the romantic elements of creativity and attention to detail. Recalls Finch, "He blindfolded me and said we were going to dinner. We got to the field where he'd first seen me throw. He walked me out to the mound; there were gerbera daisies and champagne on a blanket, and he was on one knee. He had the ring in a ceramic box in the shape of a baseball and he said, 'You've been the queen of the diamond for four years, and I want you to be the queen of my heart.'"
The wedding planning became a challenge for Finch as the Olympics approached, but she has had fun pursuing two monumental goals. "I like to think I can handle it," says Finch. "[The learning curve will be] the whole housewife thing," she says. "I'm not a cook and I don't enjoy cleaning." And she says there is no way she is retiring from softball, "When I'm 75, I'll still be going." Above everything else, Finch is clear about her identity, "I want to be Mrs. Casey Daigle," she says, "but on the field, I will always be Jennie Finch."
The Finch/Daigle Wedding Details:
The dress: A Maggie Sottero "Cinderella" ball gown.
The attire: Black tuxes for Daigle and the groomsmen and black gowns for the bridesmaids.
The flowers: Jennie is considering her favorite, red gerbera daisies and says there will also be red roses.
The location: She'd like to have the ceremony at The Crystal Cathedral in Garden Grove, California, and the reception at nearby Rancho Capistrano.
The music: Jennie says, "We both like country music." Casey is teaching her the two-step.
The baseball touch: The ring bearer will wear a black baseball jersey that says "Daigle" with Casey's baseball number. The flower girl will wear a white baseball jersey that says "Finch" with Jennie softball number.
Something blue: Jennie will wear a University of Arizona garter belt in the school's color blue given to her by a friend.