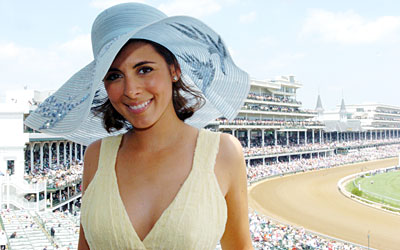 Grey Goose Vodka, a sponsor of the National Thoroughbred Racing Association, has joined with renowned hat designer Eric Javits to create a one-of-a-kind hat worn by Jamie-Lynn DiScala on Derby Day.
The Eric Javits' designed hat is 100% Nylon Horsehair in Grey Goose blue with embroidered silk threads and paillettes. The hat design features a round crown with a seven-inch flutter brim.
The hat is being sold exclusively through an eBay online auction that ended May 19, with proceeds benefiting the Elizabeth Glaser Foundation. The final price after six bids was $710.
The half Cuban and Greek starlet has been acting and singing since the age of seven. She got her start in New York regional theater, and has starred in over two dozen theatrical productions including Annie, The Wizard of Oz, The Sound of Music, The Wiz, and Gypsy. Jamie made her Broadway debut, starring as Belle in Disney's Broadway production of Beauty and the Beast. For her work on The Sopranos, Jamie received Hollywood Reporter Young Star Awards for Best young Actress in a Dramatic Television Series. She also has a SAG Award for Best Ensemble Cast.
Photo above by Harold Roth.