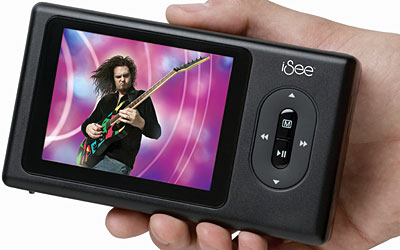 The iSee video recorder for iPod is the first portable media player that enables users to record video content directly onto regular Apple iPods and then view it on a high-quality 3.6 inch LCD screen.
The iSee video recorder for iPod extends the functionality of most Click Wheel iPods to include music, photos, video recording, storage, and playback. With the iSee video recorder, iPod users will record and store their favorite shows and movies directly from TV, cable, satellite, DVR, or any other analog source. In addition to viewing on the iSee, video files can be played back on a TV.
"With the iSee video recorder millions of iPod owners can add the power of video to their unit without having to purchase a new one," said John C. Scott of ATO. "The iSee video recording capability also dramatically expands the universe of content playable on the iPod."
The iSee 360i works with most fourth generation iPods, including the 20GB Click Wheel, the 20GB U2 edition, and the iPod mini. In addition, the iSee works with many fifth generation iPods including the 30GB iPod, iPod nano, and 30 GB iPod with video .
Measuring 6 X 3.2 X 1.1 inches and weighing only 6 ounces, the iSee 360i offers a lightweight, portable design that when connected to an iPod provides the look and feel of a single, integrated unit. The iPod slides into place inside the back of the iSee video device -- providing the user with a 91% larger viewing area than the iPod with video -- without dramatically increasing the overall form factor.
The iSee 360i is powered by a rechargeable and replaceable 2200mAh battery that extends the life of the host iPod to four hours, nearly double the battery life of the iPod with video.
"The iSee video recorder's extended battery life and 3.6 inch screen will be particularly attractive to frequent travelers," added Scott.