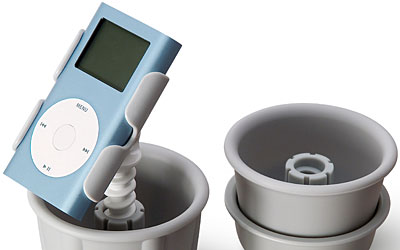 The Tune Dock for iPod mini mobile digital devices allows you to listen to the music from your iPod mini while keeping it secured in your car's cup holder.
Instead of fumbling around to find your iPod mini on the car seat or dashboard, you can now have it conveniently close at hand. The Tune Dock for the iPod mini provides security and stability, along with flexible construction for a perfect fit in your car's cup-holder console.
The innovative height-adjustment capability and its ratcheting-neck feature allow you to reposition your iPod mini quickly and easily. The cable-management clips eliminate loose and tangled cords. The device comes with two differently sized rubber bases and an adapter cup for exact fit in your cup holder.
Belkin offers a range of innovations for the computer, electronics, and mobile consumer.