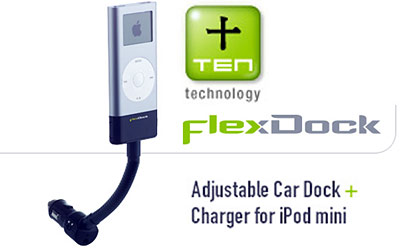 TEN Technology, maker of the top selling naviPod wireless remote control for the iPod, is proud to introduce its next hot new product: the TEN flexDock mini -- for the Apple iPod mini.
The flex dock for the iPod mini features a dock on an adjustable arm that plugs into standard sockets in most automobiles worldwide. The flexible power dock will securely hold and power the iPod mini.
The car charger dock provides the most flexible yet secure way to use the iPod mini in the vehicle. The dock on a flexible metal arm allows easy and secure positioning of the iPod mini for convenience and safety while in the car. The dark grey color of the flexDock mini will match most car interiors and lets the iPod mini shine. The flexDock mini plugs into standard cigarette lighter sockets in most cars and charges the iPod mini. The flexDock mini also features a 3.5mm line-out jack on the plug for use with the included cassette adapter or most self-powered FM transmitters for high-quality audio through your car stereo.
"The TEN flexDock mini is our first product to address the question of where to park your iPod mini inside the car," says John Lin of TEN Technology. "It will conveniently and securely display the iPod mini while charging it and provides line-out audio for better sound quality."
Users can also use the TEN naviPod along with the flexDock mini, giving them wireless remote control of the iPod mini inside their car.
"flexDock mini is such a great accessory, and just in time for the holidays as a stocking stuffer for your favorite iPod mini owner," said Eric Prentice of Dr. Bott. "This product is innovative, elegant, and intuitive. It is always a pleasure to bring a great product like the flexDock mini to market."
The flex Dock mini will begin shipping in November 2004 for $49.95.
flexDock mini and naviPod are trademarks of TEN Technology, Inc. Apple and iPod mini are trademarks of Apple Computer, Inc., registered in the U.S. and other countries.