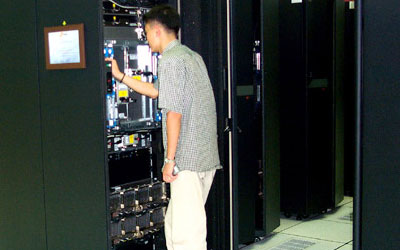 The University of Texas at El Paso (UTEP) has taken delivery of the school's most powerful computer, an IBM eServer p690 capable of more than 40 billion calculations per second.
The system, called "Top Gun," is primarily for Life Sciences research but will be used by several departments in diverse areas such as engineering, chemistry and computer science.
"UTEP has been honored to receive sustained and generous support from IBM for many years, including outstanding career opportunities for our graduates and enhanced learning tools for our students," said UTEP President Diana Natalicio. "We are grateful for this most recent commitment and the confidence in UTEP that it conveys."
The p690 is being donated as part of IBM's Shared University Research program. This SUR award represents the beginning of a set of collaborative research efforts being launched between IBM and the University of Texas at El Paso (UTEP) in the areas of High Performance Computing (HPC), Linux technology enhancements, and Life Sciences/Bioinformatics.
"We are extremely pleased to participate in aiding research in these important areas at UTEP," said Robert Amezcua, vice president, IBM pSeries Operations. "We also look forward to bringing together researchers at our IBM labs with the students and faculty at the University of Texas El Paso."
The IBM SUR program awards computing equipment, such as servers, storage systems, and personal computing products to colleges, universities and institutions of higher education around the world to facilitate research projects in areas of mutual interest. This research will involve two colleges (Engineering and Science), four departments (Biological Sciences, Chemistry, Computer Science, and Electrical and Computer Engineering), eight faculty members plus their students, and IBM scientists and developers based at the company's Austin campus.
IBM awards approximately 50 SUR grants per year worldwide.
IBM is the world's largest information technology company, with 80 years of leadership in helping businesses innovate. Drawing on resources from across IBM and key Business Partners, IBM offers a wide range of services, solutions and technologies that enable customers, large and small, to take full advantage of the new era of e-business.