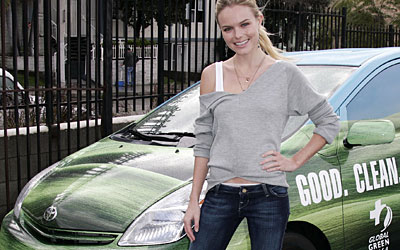 Kate Bosworth appeared at an elementary school to help bring environmental awareness to children. Highlighting the program were Toyota Prius hybrids wrapped in artwork from Academy Award-nominated animated films and this year's campaign slogan "Good. Clean. Fun."
Global Green USA, a national environmental organization, arranged the school visit to add another educational component to this year's expansive Oscar campaign, culminating with each decorated fuel-efficient car arriving for the Academy Awards.
"Educating children about tangible, practical solutions to air pollution and global warming is so important," said Kate Bosworth. "As we use the magic of Hollywood to help them connect to a solution like the hybrid car, perhaps we can inspire kids to use their own imaginations to dream up other solutions for our future."
Global Green's 3rd annual Red Carpet-Green Cars campaign sends a message about smart solutions to global warming and energy independence by send celebrities in high-mileage, low emission hybrid vehicles.
"One of our key objectives is to raise awareness about pressing environmental issues among our next generation of leaders," said Matt Petersen of Global Green USA. "Linking these popular animated films with fuel-efficient hybrid cars helps educate children that we have the power to help protect the environment."
Alternative fuel vehicles offer a cleaner, more efficient transportation solution. The Toyota Prius, for example, is a partial zero-emission sedan EPA rated to get up to 60 miles per gallon in the city (55 mpg combined) producing almost 90 percent fewer emissions than the average vehicle.
Global Green USA works in co-operation with individuals, industry, and governments to create a global value shift toward a sustainable and secure future.