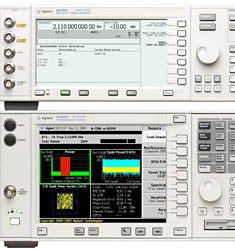 Agilent Technologies today introduced high-speed downlink packet access (HSDPA) capabilities for its high-performance E4438C vector signal generator, PSA Series spectrum analyzers, and E4406A vector signal analyzer. These powerful tools give design engineers the ability to design, debug and evaluate the performance of their 3G and 3.5G transmitters and receivers using HSDPA signals.
HSDPA is a packet-based data service within W-CDMA that allows data transmission at up to 14 Mb/s in the W-CDMA downlink through the use of adaptive modulation coding. Non-packet-based W-CDMA uses QPSK modulation, while HSDPA can use higher data rates with 16QAM when the link quality permits.
Agilent Signal Studio for HSDPA over W-CDMA software simplifies the creation of HSDPA I/Q waveforms for use with the Agilent E4438C ESG vector signal generator. The software (Option 418) provides convenient access to transport and physical layer parameters to enable the generation of W-CDMA-based HSDPA test signals specifically designed for performing receiver block error rate (BLER) measurements on the HSDPA channel.
In addition to BLER testing, Signal Studio for HSDPA over W-CDMA allows design and production engineers to test the ability of:
user equipment to identify and demodulate 16QAM and QPSK signals and to monitor the correct HS-SCCH, and base stations to correctly demodulate CQI and ACK/NACK patterns up to 1280 subframes in length. With the Signal Studio user interface, all the W-CDMA channel parameters, including HSDPA, are set in just a few windows. Code domain plots are automatically generated for the configured channel setup and show the distribution of signal power across the set of code channels for easy visual checking of code-channel power levels and code-domain conflicts. The user interface also provides easy setups for both the uplink and downlink to quickly generate standard-based signals or to create custom data patterns for troubleshooting.
Agilent's HSDPA measurement personality (Option 210) for the PSA Series high-performance spectrum analyzer and the Agilent E4406A vector signal analyzer provides new composite EVM and code domain tests that support 16QAM for full characterization of devices and systems that will be used in this new access method. This flexible tool gives design and production engineers the ability to descramble and despread the HSDPA signal in the code domain to measure the symbol power, the demodulated data bits, or the EVM of a particular code channel. With the modulation accuracy feature, the EVM of the composite W-CDMA signal -- which includes HSDPA -- can be analyzed.
Option 210 brings the number of application-focused measurement personalities for the PSA Series to 13, and for the E4406A VSA to 10, giving design engineers the most comprehensive and flexible wireless signal analysis capability in a single instrument for testing 3G and 3.5G user equipment and base stations.