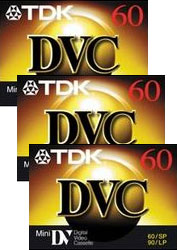 Digital video recording, once known only to professional videographers, is fast becoming one of the hottest new consumer moviemaking trends, thanks to today's new digital video (DV) camcorders. TDK is proud to help build excitement and lead the way in this fast-growing field with its high-performance DVM60 Mini DV cassettes.
TDK DVM Mini DV Cassettes: A Major Advance Over Conventional Analog Tape Designed for maximum performance when used with DV camcorders and VCRs, TDK's DVM Mini DV cassettes offer a significant advance in video quality over conventional analog recording, with an unprecedented 500-line horizontal resolution-100 lines greater than Hi8 or S-VHS recording.
TDK DVM cassettes are designed to take full advantage of the benefits of the DV format, providing remarkably faithful image reproduction with lifelike color and detailed edge sharpness, along with the ability to record digital audio with better than CD-quality stereo sound. Key to TDK DVM's performance is its pure cobalt magnetic formulation, which is deposited on the tape base using a thin-film vacuum evaporation process. This formulation provides the exceptionally high output, wide bandwidth response and high C/N ratio required to record and play back digital video signals, including shades of red which are difficult to properly reproduce using analog tape.
Because of the short wavelength recording and extremely high data density used in the Mini DV system, avoiding spacing losses is more critical than with conventional tape. TDK DVM cassettes feature a considerably smoother surface than coated tapes, for improved tape-to-head contact and exceptionally low error rates. TDK DVM cassettes are also engineered for peak performance under the most demanding conditions, with a DLC Diamond-Like Carbon protective layer above the magnetic layer. A specially developed back coating and ultra-high precision cassette mechanism minimize friction and assure the highest degree of tape stability. In addition, the anti-static cassette shell is tightly enclosed to protect the tape from dust and airborne contaminants.
TDK DVM cassettes are compact (approximately 2 ¾" x 2" x ½") and economical, making it easy for consumers and "pro-sumer" videographers to make the move to digital video recording.