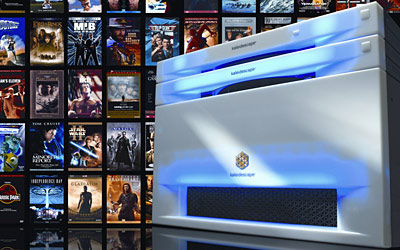 Kaleidescape has announced support for delivery, storage, and playback of high-definition video content on Kaleidescape Systems. With this announcement, Kaleidescape demonstrates its continued commitment to deliver the highest quality home theater experience, and is the first and only product in its category to offer hard disk support for the life-like detail and quality of high-definition video.
Kaleidescape is providing dealers and customers a way to showcase this new capability by including a high-definition 720p version of Joe Kane's Digital Video Essentials (DVE) with every Kaleidescape System. Kaleidescape's bundling of DVE, coupled with the newly announced Kaleidescape K2500 Digital Movie Player, delivers an all-digital pathway from the camera to the display without analog conversion or error-prone media.
"By adding the capability to store and playback high-definition content, Kaleidescape is proving that their award-winning entertainment server is ready for the future," said Alberto Fabiano of Ambrosia Audio and Video. "Additionally, from an installer's perspective, the inclusion of Digital Video Essentials as the first pre-loaded high-definition title makes it easier to do the final calibration and demonstration of an HD-capable theater."
Kaleidescape's high-definition support begins with securely pre-loading movies at the factory on Kaleidescape Disk Cartridges. When these movies are played back by the customer with a Kaleidescape Digital Movie Player, the video output is displayed in high-definition 720p or 1080i format, via either HDMI or YPbPr component outputs to the display. The high-definition digital content is stored securely on the Kaleidescape System as part of the same movie library containing the customer's DVD movies.
"We designed the Kaleidescape System to be an excellent platform for the distribution, storage and playback of high-definition motion pictures," said Kaleidescape head Michael Malcolm. "We are very pleased to begin offering high-definition content to our customers, and we are looking forward to offering more high-definition titles in the future. The Kaleidescape System is the first entertainment server to take advantage of the enormous storage capacity of hard disk arrays to deliver pre-loaded high-definition video."
In the future, high-definition movies will be made available for purchase for Kaleidescape Systems. These movies will be pre-loaded by Kaleidescape at the factory on the customer's Server prior to shipment, or on disk cartridges that can be added to existing Kaleidescape Systems. Kaleidescape is working with content providers who would like to offer their movie productions in high-definition to Kaleidescape customers.
A Kaleidescape Base System lists for $27,000 and includes a Kaleidescape Server with sufficient storage for 180 DVDs (expandable to 500 DVDs), a Digital Movie Player for playback in a single zone, and a DVD Reader for importing DVDs. These components are connected by the household Ethernet network. A scalable system architecture permits an additional Digital Movie Player to be added to the network for each desired viewing zone, and additional Kaleidescape Servers to be added for storing thousands of DVDs.
Kaleidescape is a pioneer in A/V convergence technology.