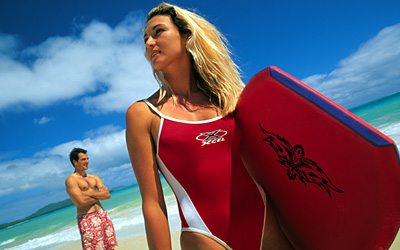 Canon, Sharp, Sony, and JVC today announced a joint proposal of basic specifications for the HDV format, which realizes recording and playback of high-definition video on a DV cassette tape. The HDV format includes 720p (progressive) and 1080i (interlace) specifications, and enables the development of products conforming to the global high-definition infrastructure. The four companies will actively promote the specifications throughout the industry and plan to finalize the specifications around September 2003.
BS digital high-definition broadcasting, which started December 2001, and digital terrestrial broadcasting scheduled to commence in December 2003 have increased anticipation toward the expansion of high-definition broadcasting in Japan. Growing sales of high-definition television sets and the introduction of digital high-definition video recorders, such as D-VHS and Blu-ray Disc recorders, have enriched customer enjoyment of high-definition video in the home.
The HDV format specifies the data recording of MPEG2 compressed high-definition signals based on the DV format, which is internationally accepted as a consumer digital VCR format. Because the new format employs the same cassette case, tape speed, and track pitch as the DV format, it can utilize mechanical parts based on the DV format. It also makes it easy for manufacturers to undertake the development of products that are highly compatible with the DV format.
The 720p specifications in the HDV format are the same specifications as adopted in the "GR-HD1" high-definition digital video camera which JVC introduced to the market in March 2003. By adopting both the 720p and the 1080i specifications, the HDV format will enable users to record high-definition video and further disseminate the enjoyment realized of high-definition video.
The HDV format records both video and audio through compression by MPEG encoding. Video signals are compressed by MPEG2 encoding (inter-frame compression) as BS digital broadcasting, making possible the recording and playback of high-definition video at a bit rate equivalent to the DV format SD (standard definition) specifications (intra-frame compression.) Audio signals are digitized with a 48kHz/16-bit quantization sampling frequency and compressed to 384kbps by MPEG1 Audio Layer II encoding.
HDV Format Key Characteristics
1) Ability to record and play back high-definition video on internationally accepted DV format cassette tapes
2) Adoption of 720p/1080i formats to comply with progressive and interlace specifications for high- definition recording and playback The HDV format complies with both the 720 scanning lines (progressive)/1280 horizontal pixels 720p format (60p, 30p, 50p, 25p), and the 1080 scanning lines (interlace)/1440 horizontal pixels 1080i format (60i, 50i). This ensures the recording and playback of high-resolution video for the high-definition era.
3) Improved error correction By changing the error correction method from error correction within a track, as specified in the DV-SD format, to error correction among multiple tracks, the HDV format offers improved error correction capability and enhanced resistance to lost data caused by dropout.
4) Data for special playback Video signals compressed by MPEG encoding do not support image display during special playback such as fast search. The HDV format records specific data for special playback on a dedicated tape, enabling the display of video images during special playback such as fast search or slow-motion playback. (Video image quality during special playback will differ from that during normal playback.)
HDV Format Main Specifications
Media
Same as DV format (DV and/or Mini DV cassette tape)
Video
Video Signal
720/60p, 720/30p
720/50p, 720/25p

1080/60i, 1080/50i
Number of Pixels
1280 X 720
1440 X 1080
Aspect Ratio

16:9

Compression
MPEG2 Video (profile & level: MP@H-14)
Sampling Frequency for Luminance
74.25MHz
55.7MHz
Sampling Format

4 : 2 : 0

Quantization

8 bits (both luminance and chrominance)

Bit rate after Compression
Approximately 19Mbps
Approximately 25Mbps
Audio
Compression

MPEG1 Audio Layer II

Sampling Frequency

48kHz

Quantization

16 bits

Bit rate after Compression

384kbps

Audio Mode

Stereo (2 channels)

System
Data Format

MPEG2 Systems

Stream Type
Transport Stream
Packetized Elementary Stream
Stream Interface

IEEE1394 (MPEG2-TS)