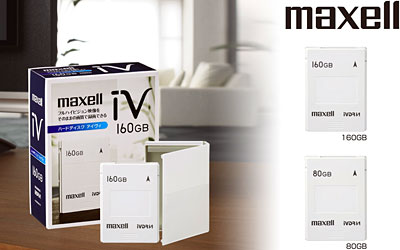 Recording long HD broadcasts requires a lot of storage space, and recording copyright protected digital content or moving it from a recorder or other internal hard disks requires media capable of copyright protection.
The Removable Hard Disk Drive iV from Maxell is the first iVDR standard hard disk drive capable of recording copyright protected high definition content without quality loss.
The small disk drive holds 160 GB of data storage and transfers 540 Mbit/s. The drive employs SAFIA copyright protection technology.
iVDR devices will be used as bridge media to record HD and SD content that can then be viewed on different devices. The drive's glass-fiber plastic cartridge housing protects vital internal parts while withstanding a wide range of ambient temperatures.
The drive's shock resistant characteristics have also been improved to boost its ability to withstand external shocks that may occur with normal use.
Maxell is to release an 80 GB model and a 160 GB model. Both come with storage cases.