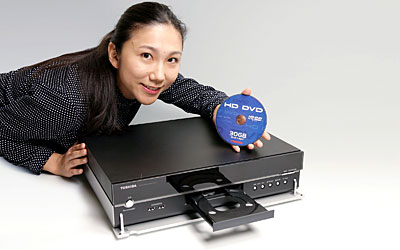 Toshiba is demonstrating a prototype HD DVD player at a high-tech electronics exhibition.
The demonstration features HD DVD players hooked up to high definition digital LCD TVs, showing HD DVD's superior image quality on large, high-definition screens.
Toshiba is also featuring HD DVD discs and notebook PC integrating a slim HD DVD read drive.
HD DVD is standardized by the DVD Forum, an international association of some 240 companies. Its physical, file and application formats have been all approved by the Forum.
Versatility assures support for many applications, including players, recorders, PCs and automotive devices.
HD DVD provides the familiar disc structure as DVD: two 0.6mm-thick polycarbonate discs bonded back-to-back, in order to enable easier manufacturing of discs and hardware devices.
The discs are robustly playable, with no need for a cartridge to protect against surface blemishes and fingerprints.
The format can meet a wide range of capacity demands. High data capacity is achieved by adopting a shorter wavelength blue-violet laser and advanced data processing technologies to store large capacity data sources.
Adoption of iHD technology delivers enhanced user interactivity on PCs and assures optimization for both AV and PC applications.