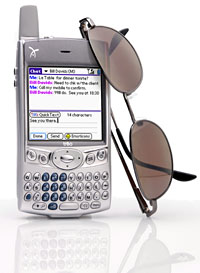 To catalyze development of applications, services and add-ons for its upcoming Treo 600 series smartphones, Handspring, Inc. today released preliminary software development tools to help developers optimize solutions for the Treo 600. The software developer kit enables Palm OS developers to design both new and existing applications for Treo 600's unique feature set, including advanced telephony and messaging capabilities, an integrated QWERTY keyboard, a five-way navigation system, a Palm OS 5 software foundation, an SD/IO expansion slot, a built-in camera, a bright color display and enhanced speaker and system sounds. Handspring expects to deliver Treo 600 this fall worldwide.
The preliminary developer kit contains detailed technical information for the Treo 600 including application programming interfaces; libraries for telephony, data communications, imaging, and audio control; specifications for system extensions, electrical interfaces and mechanical design; and a Treo 600 style guide.
Handspring today also introduced Treo Optimized guidelines through which developers can ensure the highest level of compatibility and ease of use for solutions running on Treo 600 or any other wireless member of the Treo family. This self-administered program is designed to deliver the best possible customer experience for third-party solutions. Treo Optimized solutions receive additional sales support prioritization through Handspring's and its carrier partners' online and retail channels. A number of development partners have already optimized their Palm OS applications for the Treo 600 series in a matter of days, ensuring an improved customer experience in typical smartphone usage scenarios.
"A significant part of delivering the best possible smartphone to customers is enabling third-party solutions to run seamlessly on Treo," said Calin Pacurariu, director of developer solutions for Handspring, Inc. "We anticipate some of the most exciting things people can do with Treo will come from our solution partners. Providing these tools now will help ensure timely delivery of applications when the product becomes available this fall."
A major component of the new Treo 600 series smartphone is its native ability to allow direct purchase and download of media files, applications, and updates over the air on wireless data networks. This capability opens up a significant new sales channel for thousands of existing Palm OS applications and developers while providing a broad base of robust applications for Treo customers and carrier partners alike.
Flexible and extensible support for direct downloads to Treo 600 series utilizes standard Palm OS 5 interfaces allowing developers to quickly optimize their applications for over the air delivery. The open standards based browser platform on the Treo 600 enables the secure transaction and download capability that is required for successful commercial deployment of online storefronts by Handspring carrier, distributor and developer partners with minimal modification to existing systems.
"The native secure transaction and download capabilities of the Treo 600 series combines the rich applications base of the Palm OS with a direct ability to purchase and download a particular application whenever you are connected to a wireless data network," said Pacurariu. "No matter where you' are, you'll be able to access the latest software update from your service provider, buy a new application for your smartphone, or make a secure transaction from an online store."
Last month Handspring introduced the design for its new smartphone family, the Treo 600 series. The Treo 600 is an innovative design that combines a fully integrated QWERTY keyboard with a smaller, more phone-like form factor. The sleek design is the result of significant research and development focused on reducing size, maximizing the utility and ease of use of both phone and data functions, and minimizing trade-offs typically found in converged products. All products in the Treo 600 series will combine a world-class phone, a Palm OS 5-based organizer with messaging, email, and web browsing features. The first Treo 600 products are expected this fall worldwide.