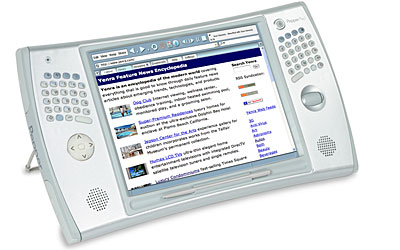 The Pepper Pad is the handheld media computer that enables consumers to hold in their own two hands the world of digital media and broadband services.
A new version of software for the Pepper Pad brings users integration with the Flickr photo-sharing community, Mobipocket's eBook reader, and the TitanTV program guide, while giving the Pad quicker performance. Both the Mobipocket eBook and Flickr photo-sharing applications can also be accessed using the Pepper Desktop software for PCs.
The Pepper Pad Plus is an enhanced version of the handheld media computer. New hardware features include a new battery with more than 60 percent greater capacity; Wi-Fi 802.11g; a 30-gigabyte hard disk; and Bluetooth 2.0. The Pad Plus will also include a new software revision that will include: SIP-based Internet telephony (VoIP); Windows Media 9 Series audio and video; plus Universal Plug and Play (UPnP), which enables the Pad to stream music, photos and videos from other UPnP devices and PCs.
Pepper has licensed its software and its hardware designs to HANBiT Electronics, enabling HANBiT to produce the award-winning Pepper Pad handheld media computer. Under the licensing agreement, HANBiT will manufacture and distribute the Pads under the Pepper brand worldwide.
The Pepper Pad gives consumers easy, portable access to the world of digital media and broadband services. At just 2.3 lbs., less than one inch thick, rugged and splash resistant, the Pepper Pad is perfect for the family room, the kitchen counter, the bedside table, the coffee shop or just about anywhere. The product costs just under $850.
The Pepper Pad is a lightweight, Wi-Fi-enabled device, with a large, high-resolution screen, 20-gigabyte hard disk, built-in speakers and a thumb keypad, providing a powerful, versatile platform for a much wider range of online and off-line activities than any other portable device. Its 8.4-inch display is ideal for viewing full-width Web pages and watching full-screen videos. The PepperPad can store hours of music and videos, plus thousands of photos. And, with three forms of wireless communication - Wi-Fi, Bluetooth and infrared (IR) - the Pad can access and control a wide range of devices around the home, from Wi-Fi access points, to TVs, set-top boxes, music systems, home theaters and media servers. It's an ideal way for consumers to have Internet and media access plus wireless remote control in every room of their home.
The Pepper Pad can be used anywhere, with or without Wi-Fi. Consumers can take advantage of home networks and public wireless hotspots for access to online services, or offline, they can play digital media they've saved on the Pad's built-in hard disk. The Pepper Pad is fully functional and ready to use right out of the box. It offers a far richer viewing experience than small-screen PDAs or mobile phones. The Pad is water-resistant and comes with a rechargeable lithium polymer battery with advanced power management.
The Pepper Pad has an SVGA TFT LCD screen with a resistive touch screen. The Wi-Fi is complemented by Bluetooth, IR, SD/MMC card slot and a USB port. It also features built-in stereo speakers and microphone, jacks for headphones, external microphone and external video display, plus a direction-pad and scroll wheel for navigation. It has two options for text entry: a built-in lighted thumb QWERTY keypad or a separate Bluetooth or USB keyboard.
Pepper Computer ws a digital home software and technology company that created and marketed a handheld media computer platform.