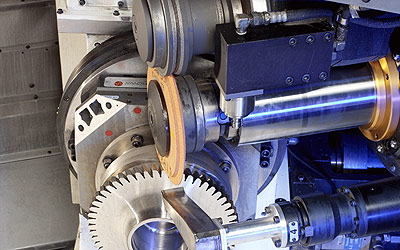 Grinding solutions from Makino save on setup time, reduce throughput time, improve quality and save on floor space because these unique process techniques can be combined with milling, drilling, turning and tapping operations on just one machine. This flexibility and productivity is unparalleled within the machine tool industry, as grinding applications can be applied across multiple horizontal machining center (HMC) platforms.
Makino offers a variety of options on machines to suit the grinding needs of any production or aerospace operation, with differing levels of available grinding processes that include plated CBN grinding, a patented vitrified grinding technology and continuous dress grinding. This also includes what can be considered a micromilling application, with the individual abrasives being small cutting tools.
Mark Waymouth, aerospace market manager for Makino, says: "Makino has spent more than six years researching and developing flexible grinding solutions across our HMC platforms. We believe in optimizing our customers' options rather than forcing them to compromise in their machine purchases.
"Makino will configure a standard machining center to support the level of grinding that customers require so they will not need to purchase capability they do not need. We also offer the ability to use different wheels and wheel compositions for different operations that enable virtually unlimited profiles in grinding operations. This is particularly vital in the aerospace market, where such materials as gamma titanium aluminides and new composites are being used to make parts."
Makino has machines ideally suited for CBN, intermittent dress, vitrified grinding and continuous dress vitrified grinding in, in any combination. Machines that offer CBN grinding also have enhanced filtration, coolant temperature controls and guideway guarding. Machines that offer Makino's patented vitrified grinding technology will offer programmable coolant control, a fixed dresser for cutting wheel and an optional rotary workholder.
The A99E-CD, with proprietary continuous dress vitrified grinding technology and programmable grinding wheel coolant, provides five-time the metal removal rate of any comparable machine in the marketplace. Makino was the first to introduce a horizontal machining center that featured continuous dress grinding technology, which can remove 11.8 cubic inches/minute of metal from 718 inconel, a rate unmatched within the industry.
Continuous dress machines will come equipped with a dressing spindle motor and an auto tool-changing arbor. Makino remains the only machine tool maker to offer a process that changes dresser rolls and grinding wheels while in production. An unlimited number of wheel changes can be made of different compositions for different options. These wheel changes are the fastest in the industry.
Makino provides advanced machining technology and application support for the metalcutting and die/mold industries.