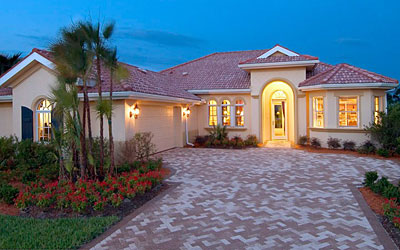 WCI Communities, has been recognized by the Florida Association of Home Builders (FAHB) and the Florida Green Building Coalition for excellence and innovation in building environmentally sensitive, healthy and energy efficient green homes. At the 26th annual Southeast Building Conference held on Saturday, August 7th, WCI Communities received one Aurora Award and two Grand Auroras for its environmental commitment within the homebuilding industry.
WCI's Casa Verde demonstration model green home at Venetian Golf and River Club is a 2,241 square-foot, three-bedroom, two-bath home built with more than 100 green features to provide a healthy indoor environment for owners, while conserving the Earth's natural resources at the same time. The entire home is designed as an education tool, including the garage, which has been transformed into a hands-on demonstration learning center to teach homebuyers on the importance and value of building green. Casa Verde is the "greenest" home in the state of Florida according to the Florida Green Building Coalition (FGBC) based guidelines that incorporate green design, technology and construction into the overall development of a home and yard, resulting in a comfortable and healthy home to live in, while reducing the impact on our environment and its limited resources.
WCI's energy efficient Generation Green Home, or Geni G for short, in Palm Beach Gardens, Florida, is a 1,555-square-foot green demonstration model home that is raising the bar within the homebuilding industry when it comes to standards for conserving and utilizing energy more efficiently.
It is anticipated the Geni G will save $431 a year in energy bills through energy-saving green features such as: lights that turn off automatically when no one is in a room, utilizing compact fluorescent lighting, a high-efficiency air conditioner, exterior walls constructed of Insulated Concrete Forms, (ICF's) sealed ducts throughout the home, and Icynene foam insulation sprayed in the attic.
WCI also received an Aurora Award in the category of Production Model Green Home. The Massari model home, a 1,482 square-foot, two-bedroom, two-bath home at WCI's Venetian Golf and River Club in Venice, Florida, was recognized as the first production model home to result in six-plus like models to be certified green by the Florida Green Building Coalition.
"At WCI we understand, and truly believe, it's our responsibility to constantly push the envelope on building healthier and Earth-friendly homes," said Karen Childress, WCI's Environmental Stewardship Manager. "We're delighted to have our efforts recognized by the distinguished Aurora judges and hope this will further enhance our message to the industry and consumers, to build and buy green."
The Aurora Awards are presented each year to outstanding builders, planners, architects, developers, designers, and other housing-related professionals within a 12-state region at the Southeast Building Conference, one of two regional trade shows affiliated with the National Association of Home Builders.
WCI Communities has been creating amenity-rich, master-planned lifestyle communities since 1946.