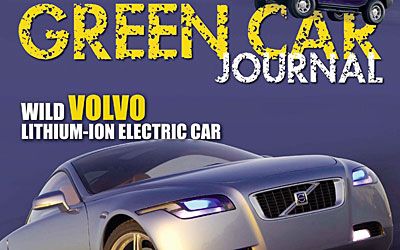 According to Ray Bradbury, traffic on our nation's major highways will freeze with gridlock, and only then will people decide to change their driving habits.
"We're going to be forced into new solutions just as we were forced into space," says Bradbury in an exclusive Green Car Journal interview. Bradbury reminds us that unusual circumstances made for an acceptance of space travel, with America's race for space driven not by the general population's desire to go to the moon, but rather by a reaction to political events during the Cold War.
Similarly, Bradbury expects that a complete rethinking of our transportation system will be driven by reaction to events over the next five to seven years, not by a desire for change. In the interview, Bradbury says that, simply, "we're going to be forced to look at the automobile and freeways because they're not working."
Bradbury isn't alone in pointing out the need for change. In Green Car Journal's Winter 2004/2005 issue, Amory Lovins, noted physicist and CEO of Rocky Mountain Institute, discusses how the application of advanced automotive technologies can create highly efficient vehicles that help resolve America's dependence on foreign oil.
Lovins supports his perspective with a look at specific examples of advanced automotive design and manufacturing work at BMW, Honda, Porsche, and Toyota, along with an RMI Hypercar project that examines a virtually designed, production costed, and manufacturable crossover vehicle that uses these, and other, technologies.
"It shows how to save half of U.S. oil use at $12/barrel, and then replace the rest with biofuels and saved natural gas," says Lovins in the article. "That would eliminate U.S. oil use by 2050 -- without needing federal legislation, CAFE, or gasoline taxes, but led by business for profit."
Other voices in the issue include that of World Resources Institute president Jonathan Lash, who explains why it's crucial that domestic automakers build more fuel efficient vehicles to effectively compete in emerging world markets. Also adding a voice to the issue is Bluewater Network's Elisa Lynch, who focuses on the need for revamping EPA's fuel economy testing so official mpg estimates provide new car buyers a realistic basis for comparison.
With its focus on automobiles, energy diversity, and environment, Green Car Journal truly is the auto enthusiast magazine of today. Since its launch in 2003, the consumer magazine has become a popular read not only for auto enthusiast subscribers and newsstand buyers, but also for environmentalists, opinion leaders, political leaders, and the nation's top media.
"In fact, we've been told by writers and producers from high profile print and broadcast media that our magazine issues are referenced as they prepare their own features," says Green Car Journal editor and publisher Ron Cogan, a former Motor Trend feature editor. "With the considerable noise and confusion floating out there on high efficiency, alternative fuel, and advanced technology vehicles, we're pleased to play that role and gratified that our balanced coverage is so highly regarded."
Green Car Journal was recently honored with nine International Automotive Media Awards, including gold Foundation Awards for Best News, Introduction of New Models, and Interview, and a silver for Best Single Magazine Issue. The magazine focuses on low emission and high fuel economy gasoline and diesel vehicles; hybrid, battery electric, and fuel cell technologies; and hydrogen, ethanol, biodiesel, natural gas, LPG, and low sulfur fuels.
Among the colorful features in the current issue are test drives of the Chevrolet Silverado Hybrid and Jeep Liberty diesel, a look at Volvo's 3CC electric car concept and BMW's hydrogen H2R, and an overview of the Top twenty green pickups.