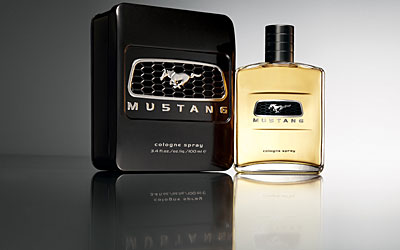 In July, Aramis and Designer Fragrances in partnership with Ford will introduce Mustang, a new fragrance for men.
"We are so excited to be launching a fragrance with Mustang, an American icon," said Robin Mason of Aramis and Designer Fragrances.
The Mustang fragrance exemplifies the allure of the Mustang man: bold, daring, and legendary. The cologne opens with the bright bold aroma of lavender, ginger and lemon. The heart of the fragrance, a fusion of pipe tobacco and cedarwood, evokes a daring ruggedness. The legendary masculine notes of amber, fir balsam and patchouli complete the fragrance, giving the scent an appealing aura for all men.
The bottle and packaging created for Mustang complete the vision of the new scent. The bottle is simple and sleek, but masculine in shape. It has a graphite cap and collar with a silver hot stamping and the Mustang Pony logo on the label. The outside packaging is a graphite metal reusable Collector's Tin with the iconic Pony logo.
The Mustang scent will be available in a cologne spray and an after shave.
Mustang is one of the greatest automotive sales success stories of all time. Nearly one out of every two sports cars sold in the United States is a Mustang, and remains one of the hottest-selling cars in America. It's also America's best-selling convertible.