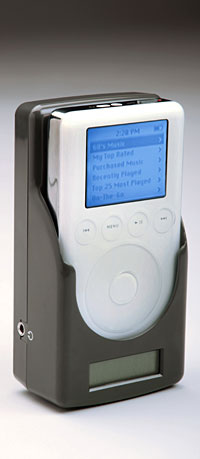 Combined Technologies Group has introduced consumer-friendly wireless products, including the NordiCon FM transmitter for iPod.
"With the increasing popularity and sale of iPods we developed a NordiCon FM transmitter that securely holds a full size or mini iPod and wirelessly transmits digital music through a car's sound system," said CEO Vincent A. Caminiti. "It can give dealers an extra deal maker to close the sale."
"We've designed our products to give new car dealers and their customers much greater savings and flexibility over factory installed systems," added Caminiti.
The flexibility of each NordiCon product is the unique mounting solution that enables car dealers to offer them on any line of new or used vehicles.
Combined Technologies Group develops electronic systems sold primarily through the new car dealer market in North America.
A product from another manufacturer is designed to be used with a number of portable devices, not just the iPod. The Aerielle Enabled AudioBUG ATB-350 Automotive FM Transmitter transmits audio to any FM radio. Eliminating the need for custom installation or hardwiring, this AudioBUG is powered by the automotive cigarette lighter socket, allowing for simple plug and play use in any car. Users can connect portable audio devices to the ATB-350, plug the transmitter into the cigarette lighter socket, tune to an open FM station, and hear their tunes in full stereo over the radio while driving.
As with all Aerielle Enabled technologies, this Automotive FM Transmitter provides unparalleled audio fidelity through enhanced noise reduction technology, high-quality stereo separation and superior total harmonic distortion performance. The ATB-350 offers 3 channel presets, Instant-On and Auto-Off capabilities, and a well-lit LCD display for easy operation and tuning. No batteries are required.
CEO Art Cohen aid "We're excited about the launch of our latest AudioBUG. Consumers have told us they want an automotive FM Transmitter with more channels to choose from on the FM band. This product gives them what they want: high quality, wireless audio that is simple and convenient to use."