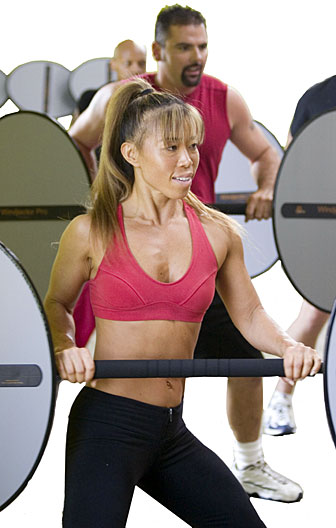 Windjector from Dosho Design uses air resistance to provide a cardio workout, stretching, and strengthening of the core muscles.
The twenty-nine core muscles are crucial for improving athletic performance as well as for performing everyday activities. Yet core training is challenging, as the core muscles are difficult to isolate and train. Dosho's new product works on the core muscles from the inside out and provides a whole new way to train the core while having fun.
Windjector use of air resistance allows each individual to work out at his own pace. The faster you move, the more resistance you encounter, and the harder you work out. The dual positive, dynamic resistance is so gentle on the joints that it is similar to doing aquatic exercises without water. Windjector provides training for the cardiovascular, respiratory, muscular endurance, and muscular strength systems. This workout helps improve flexibility, agility, and mobility.
The technology was developed by Bowflex inventor Tessema D. Shifferaw.
"I initially designed Windjector as fitness equipment that would help with rehabilitation for the back and core. But I found out that the air resistance also provides a very intense aerobic workout for physically fit people."