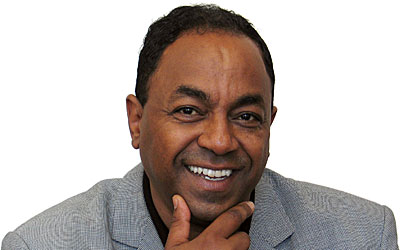 For his invention of the Bowflex exercise system and his creation of an exercise equipment line, Dosho Shifferaw was given an award for Entrepreneurial Innovation by the US Department of Commerce's Minority Business Development Agency (MBDA).
The award honors individuals or organizations with an outstanding record of entrepreneurial innovation that demonstrates commercial utility, contributes to the public and private sector of the economy, and brings visibility to the national minority business enterprise community.
"Dosho is a true innovator," said Ron Langston of MBDA. "His inventions revolutionized the fitness industry and continue to do so even today. Furthermore, it has made a tremendous contribution to the public and private sector of the economy".
Dosho, an immigrant from Ethiopia, was elated. "I am honored to be selected for this prestigious award by the MBDA. This is a story of the American dream come true."
Dosho came to America at age 17 with just $500 in his pocket and supported himself working as a cab driver. While working on a student project, he came up with the idea for the Bowflex exercise machine. He patented the concept and attempted to license the idea to fitness equipment manufacturers. They all declined.
He then wrote a business plan with help from the MBDA, and started marketing the product directly to consumers in the early 1980s. He led his company to a successful IPO, forming a public company called Direct Focus. Millions of Bowflex units have been sold in the United State and abroad, and the brand is now owned and marketed by The Nautilus Group. Dosho has fourteen patents and four pending patents worldwide.