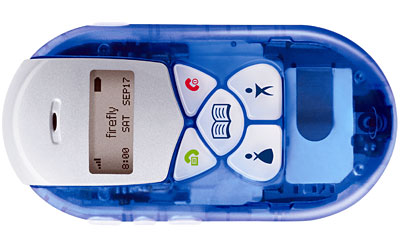 The Firefly phone is the first and only mobile phone explicitly designed for tweens that satisfies parents' concerns about unrestricted mobile phone use and monthly costs. The Firefly phone is a pioneering voice-only phone designed for the smaller hands of kids aged eight to twelve years old. With just five keys instead of a regular dial pad, parents use a PIN to program up to twenty-two outgoing numbers into the phone, including speed-dial keys for Mom and Dad. The patented phone lights up like a firefly when in use and intermittently when in standby mode. It is about the size of a small pocket calculator and weighs two ounces.
Firefly Mobile conducted extensive market research with parents and children across the nation, and validated their belief that families need a mobile phone for eight to twelve year olds that performs basic functions, helps parents maintain financial control and connects kids with the most important people in their lives.
"Firefly Mobile is responding to the needs of the marketplace and dedicating our efforts to satisfying both parents' and kids' needs for a functional, controllable and fun mobile phone," said Robin Abrams, CEO, Firefly Mobile. "We are excited to be the first company to deliver a mobile phone especially designed for tweens -- whose plans are always changing. Parents love the Firefly phone because the small phone is shaped to fit a kid's hand, it offers a PIN-protected phone book, optionally screens calls and is easy for kids to use. Kids love the Firefly phone because it is cool, fun to use, and they can choose ring tones, animation and background colors."
"Kids feel greater self confidence when they are able to communicate, whenever they need to, with important people in their lives," said Dr. Laura Davies. "For a parent running a full life, it is reassuring to know that whenever there is a need, they can make direct contact with their child."
Firefly phones help eliminate the hesitation many parents feel about handing their younger children a regular mobile phone that lacks the control features that parents need. Firefly phones feature a variety of parental controls, including the ability to pre-program outgoing numbers and optionally only receive calls from an approved list of incoming numbers. Mom, Dad and Phone Book keys allow kids to make one-touch calls, ensuring they are always just one key away from mom and dad.
The Firefly phone includes a variety of innovative features that provide parents with peace of mind, and kids with fun:
12 ring tones
5 animations
7 screen colors
911 button for emergency calls, with accidental call prevention feature
Battery charger
Caller ID
Firefly Fireworks light display, which illuminates when the phone rings, but also flashes intermittently whenever the phone is on
Hook for backpack clip (included with phone)
Interchangeable translucent shells
Just five keys to place most calls
Mom and Dad speed-dial keys
Optional call screening
Parent-programmed, PIN-protected phone list with a 20-name capacity
Specifications:
Antenna: Internal
Battery: Rechargeable, non-removable lithium ion battery
Language: English or Spanish
Mhz: GSM 850/1900 (introducing 900/1800 Mhz version later in 2005 in response to strong levels of interest in Africa, Asia, Australia/New Zealand and Europe)
Size: 3.46" x 1.73" x 0.79"
Standby time: 205 hours
Talk time: Up to 6 hours
Weight: 2.12 oz.
Firefly Mobile also offers a fun, brightly colored array of accessories for the Firefly phone, which allow kids to personalize their phone to fit their personality. Accessories include:
glow-in-the-dark skin
hands-free headset
lanyard
mesh carrying pouch
patterned shells
transparent colored shells
travel and vehicle chargers
wristlet carrying purse