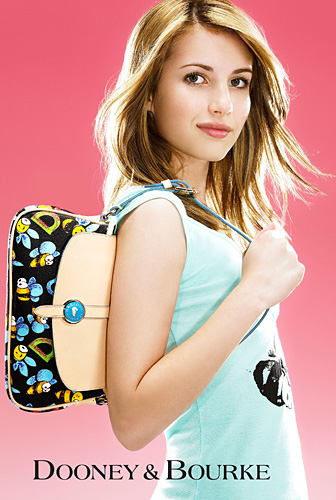 Continuing his teen trend collection over the past four years, designer Peter Dooney has introduced a new set of handbags for young consumers.
Dooney and Bourke has selected actress Emma Roberts, niece of the famed Julia Roberts, as the new face for the upcoming national ad campaign. The campaign is set to debut in the themed Young Hollywood issue of Teen Vogue in October. Roberts is best known for starring in the Nickelodeon series Unfabulous and, like her aunt before her, is pursuing a big screen career. She has already been seen in movies such as last spring's Aquamarine and will be the lead in the 2007 Nancy Drew movie.
As a Dooney and Bourke model, Roberts follows in the footsteps of leading lady Mischa Barton. For the current season, Peter Dooney turned it up a notch by teaming up with Emma Roberts, not only to model the teen collection, but also to lend a hand in designing.
Emma spent a day with the Dooney & Bourke design team to create a new limited edition bag bearing her signature style.
The teen collections featured in the Emma Roberts' campaign are expected to be among the hottest new handbags this fall. The bags will be in Dooney & Bourke retail boutiques in October. They will also be found in department stores such as Bloomingdales, Lord and Taylor, Macy's, and Nordstrom.