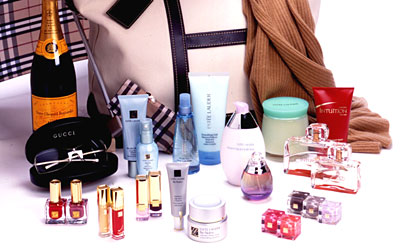 Estee Lauder continues to revolutionize the world of luxury celebrity beauty and pampering with its 2004 Estee Lauder Spa. The company has once again brought together the most trusted estheticians, stylists, beauty gurus and fitness experts to create the ultimate "Dream Team" for the third-annual Estee Lauder Spa in Beverly Hills during the Oscar festivities. The elite few who are nominated in the Best Actor/Actress and Best Supporting Actor/Actress categories are invited to relax and prepare for the biggest night of their careers with a customized experience at the Estee Lauder Spa suite or in the quiet comfort and privacy of their own homes.
New additions to the Estee Lauder Spa menu this year include the Total Body Performance Experience for nominees and the Micro-D Express Glow. Total Body Performance is a specialized body sculpting program for the 2 weeks leading up to the big night, combined with a new Body Performance Contouring Treatment designed to get nominees fit and red-carpet ready. This program features complimentary at-home training from one of Hollywood's finest fitness experts and the latest in anti-cellulite skincare technology -- a winning combination for their red-carpet prep. And Micro-D Express Glow utilizes the breakthrough technology of Idealist Micro-D Deep Thermal Refinisher to give any nominee, male or female, glowing, flawless skin.
In the spirit of ultimate indulgence, nominees will receive a luxurious gift to celebrate their accomplishments. The 2004 gift includes a collection of Estee Lauder's most wanted products -- a selection of red carpet-worthy shades of new Electric Intense Lip Creme, Idealist Micro-D Deep Thermal Refinisher, Perfectionist Correcting Serum for Lines/Wrinkles, Beyond Paradise Eau de Parfum Spray, a preview of the not-yet-released Body Performance collection, select Re-Nutriv Ultimate Lifting skincare and Pure Color makeup, as well as the complete Estee Lauder men's grooming line.
Manolo Blahnik has partnered with Estee Lauder once again to bring the ultimate in celebrity-chic to the Estee Lauder gift. In addition to providing men's and women's "pedal" suede slides for the gift, Manolo Blahnik has designed the first-ever Manolo Blahnik travel bag that will serve as the custom gift bag for guests of the Spa. Dubbed "My Shoes for the Weekend" bag by Manolo, the bag, lined in suede, holds just enough for a weekend away with pouches sized perfectly for three pairs of your favorite Manolos. (The bag, made exclusively for this event, will only be available via special order through Manolo Blahnik's retail store). Male nominees who are guests of the Spa will receive two crystal Baccarat Vega Flutissimos champagne flutes and female nominees will receive a pair of Baccarat Tentation earrings. All gifts will also include an Arnold Brandt cashmere sweater, an Hermes throw and a bottle of La Grande Dame Veuve Cliquot champagne to toast the nominees' accomplishments.
The exclusive Estee Lauder Dream Team was created to pamper the top stars of the year and eliminate the stress and inconvenience of scheduling numerous beauty and spa appointments during one of the busiest weeks in Hollywood. The 2004 Dream Team members claim Hollywood's top celebrities among their clientele.
Celebrities will be able to develop their own specially tailored spa day with a friend or family member -- choosing from a complete menu of beauty, fitness and spa treatments performed by specialists in each field. The Dream Team includes Estee Lauder's celebrity makeup artist Paul Starr, top Hollywood hairstylist Enzo Angileri and renowned fashion stylist Phillip Bloch. Other members of the Dream Team include Estee Lauder top spa estheticians, massage therapists and nail technicians, as well as brow expert Donna Frank.
This year the latest Men's Health cover model and fitness expert, Owen McKibbin, has also been added to the Dream Team to further incorporate the world of heath and fitness into the Estee Lauder Spa concept. McKibbin will be available to nominees two weeks prior to the big night to get them looking and feeling in red-carpet shape as well as for customized power workouts just prior to the event. Both fitness routines and Body Performance treatments will be tailored specifically to the needs of the Academy Award nominee and will include the latest spa and anti-cellulite skincare breakthroughs.
In addition to Body Performance Contouring Treatments and the Micro-D Express Glow, the Estee Lauder Spa Menu for the week of the Academy Awards includes microdermabrasion, massage, manicures, sports pedicures and special "couples" treatments.
Decor for the Spa, located at the Four Seasons Hotel in Beverly Hills for the week leading up to the Academy Awards, was developed by Estee Lauder in collaboration with Tony Schubert of Event Eleven, an event design firm based in Los Angeles. While last year guests were treated to an exotic Balinese them, this year, the look of the Spa is modern, sophisticated, yet luxurious chic. To complement Estee Lauder's new package design image, the floor's suites will be transformed spa "havens" -- all-white with clear lucite and crystal blue accents in the women's spa and earthy, neutral tones in the men's suite. In accordance with the all-white decor, all guests will be asked to "check their shoes" upon arrival and will be given special cashmere slippers to walk throughout the space. A complete beauty studio, as well as manicure/pedicure stations, a gym and, of course, several spa treatment rooms are being custom-designed for the Spa.