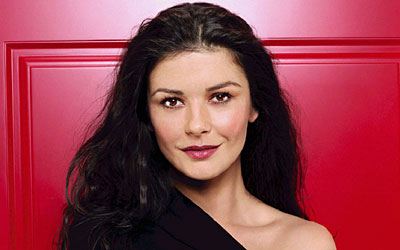 Elizabeth Arden opens its signature Red Door today to announce that internationally acclaimed actress Catherine Zeta-Jones has joined the beauty company as its exclusive global spokesperson. She will appear in the company's new image advertising campaign, "Open For Beauty," beginning in June 2002.
The agreement with Catherine Zeta-Jones -- star of such films as the Oscar-winning "Traffic," "America's Sweethearts," "The Mask of Zorro," and "Entrapment" and one of People magazine's "Most Beautiful People" as well as in "People's Yearbook 2002" -- commences an initial four-year relationship with Elizabeth Arden.
"Catherine Zeta-Jones personifies the essence of the Elizabeth Arden brand, as she is the epitome of personal style, elegance and sophistication," said Ron Rolleston, Executive Vice President, Marketing of Elizabeth Arden Cosmetics. "We are thrilled that Catherine will be the beautiful new face of Elizabeth Arden," added Rolleston.
In addition to naming Zeta-Jones as its corporate spokesperson, Elizabeth Arden launched a new "Open for Beauty" image advertising campaign beginning in February 2002. A singular line of text, "Open for Beauty," will signal visually the Elizabeth Arden vision and commitment and will shine a spotlight on the Company's familiar Red Door. Zeta-Jones will appear in advertisements as part of this campaign beginning in June, and also will introduce a new Elizabeth Arden fragrance in summer 2002.
"I have read masses about Elizabeth Arden. She was a visionary, and I am proud to be a part of the company she created," said Catherine. "As Miss Arden said, 'to be beautiful and natural is the birthright of every woman,' and I wholeheartedly agree with her philosophy, and dare I say, conviction to her dream."
Miss Arden, one of the true creators of the beauty industry, opened her first salon in 1910 and from there built one of the world's great global beauty brands. Today, Elizabeth Arden brands generate an estimated $700 million in retail sales. In addition, over 140 salons and day spas are licensed worldwide to Elizabeth Arden Salon Holdings, Inc., one of the premiere salon and spa companies in the world.
Elizabeth Arden is a leading global marketer and manufacturer of prestige beauty products. The Company's portfolio of leading brands includes, among others, the fragrance brands Red Door, Elizabeth Arden Green Tea, 5th Avenue, Elizabeth Taylor's White Diamonds and Passion, White Shoulders, Geoffrey Beene's Grey Flannel, Halston, Halston Z-14, PS Fine Cologne for Men, Design and Wings by Giorgio Beverly Hills; the Elizabeth Arden skincare line including Ceramide and Millenium; and the Elizabeth Arden Cosmetics line.