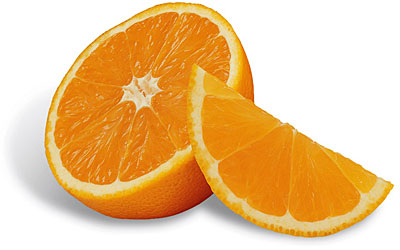 The latest trend in the battle of the bulge is packaging popular snacks in portion-controlled packets of 100 calories. Mother Nature figured out how to do this long ago. Sunkist oranges come in their own portion-controlled package of just 80 calories, and they're high in fiber and water, which contributes to the fullness factor -- a key strategy for weight loss because it helps prevent overeating.
Research shows that fibers found in the fuzzy white layer of an orange curb appetite and suppress hunger levels for up to four hours after eating. In addition, oranges offer a nutritional punch in a refreshingly juicy package. In fact, compared to other low-calorie snacks like pretzels or popcorn, oranges offer great taste, fewer calories, and more nutrients.
"Keeping healthy snacks in the house is a must," according to Dr. Naomi Neufeld. "It's much easier to make wise choices if healthy snacks, such as oranges, are available. I encourage people to enjoy whole fruit rather than juice, which has virtually no fiber. Whole oranges have the added benefit of providing vitamins, minerals and disease-fighting nutrients."
Citrus fruits are included in the dietary programs of some of the world's leading nutrition organizations.
Sunkist is a marketing cooperative owned by more than 6000 citrus growers harvesting oranges, lemons, and grapefruit.