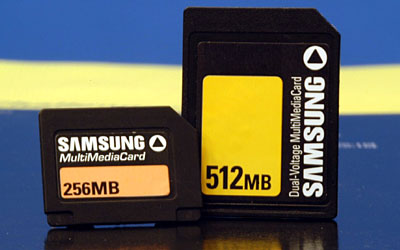 Samsung Electronics today announced a full line of Dual Voltage MultiMediaCards (DV-MMC) that support lower voltage requirements for next generation media-rich mobile appliances such as digital cameras and mobile handsets. Representing a 70 percent decrease from the conventional 80mA, the 1.8V and 3.3V dual voltage feature extends battery usage by enabling mobile applications to write and read data at a low 20mA.
Handset manufacturers are now designing MMC and RS-MMC into their next generation handsets. Samsung's new DV-MMC line up consists of nine variations in density and size: 512-,256-,128-,64-,32MB DV-MMCs and 256-,128-,64-,32MB Dual Voltage-Reduced Size-MMCs (DV-RS-MMC).
Key to 2.5G and 3G mobile handsets is memory cards that can store and transmit high-density video images and pictures. The 128MB and higher density MMCs can store and read data at 1.9MB/sec, providing real-time sequential video recording of VGA quality images. The 512MB card can store 500 picture images in three-megapixel resolution, 30 minutes of VGA resolution video images, or eight hours of MP3 quality music files.
RS-MMC provides additional memory expansion for space constraint mobile applications such as mobile handsets and MP3 players. For use in PDAs and digital still cameras, the ultra small RS-MMC, only half the size of a standard MMC, can easily be adapted to conventional MMC slots by using an extender.
Samsung develops semiconductor, telecommunications, flat panel display, and digital convergence technology.