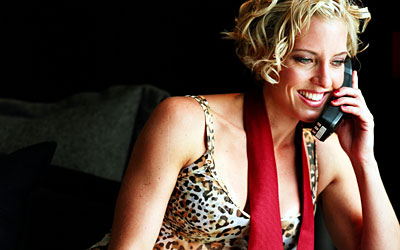 TSI Telecommunication Services Inc. (TSI), a global communications technology company, The DMA, the leading trade association for businesses interested in interactive and database marketing, and Interactive Marketing Solutions (IMS), a subsidiary of The DMA, today announced their intention to jointly offer a high-performance network-based solution to assist telemarketers in complying with the national do not call regulations enforced by the Federal Trade Commission (FTC) and Federal Communications Commission (FCC). The system will be powered by TSI and administered by Interactive Marketing Solutions.
The TSI-DMA/IMS Do Not Call solution gives carriers a choice to offer their telemarketing customers an end-to-end solution that combines TSI's network signaling capabilities along with a comprehensive telephone number database management system that includes both fixed and wireless listings. In addition to checking Do-Not-Call listings, the solution also provides reporting capabilities confirming that the numbers dialed have been checked against a database to ensure and ease compliance with all FCC and FTC requirements, which should limit telemarketer's liability.
"Our robust signaling network and database solutions combined with The DMA's and IMS's unparalleled experience in managing compliance systems will simplify the compliance process for direct marketers across the country," said Linda Hermansen, TSI's vice president-business development.
"This solution, operating entirely within the telephone network, provides the telemarketer with a seamless, manageable and cost-effective approach to compliance," said Frank A. Rigano, CEO of Interactive Marketing Solutions, a DMA subsidiary.
"The new law requires a level of sophistication and complexity that will be difficult for all marketers to achieve, especially small businesses. This solution seamlessly fixes this problem for all marketers, small or large," said H. Robert Wientzen DMA president & CEO.
The National Do Not Call registry is a list of phone numbers from consumers who have indicated their preference to limit the telemarketing calls they receive. The FTC, the nation's consumer protection agency, manages the registry. The FTC, the FCC and state officials will enforce it.
The National Do Not Call Registry will be available to the telemarketing industry September 1, 2003. Enforcement of the National Do Not Call Registry begins October 1, 2003. Companies who are required to access the registry and remove the numbers on the registry from their calling lists must do so by October 1, 2003, to be in compliance.
TSI (now Syniverse) specializes in innovative business and network engineering solutions that manage and interconnect voice and data systems.
The DMA is the leading trade association for businesses interested in interactive and database marketing, with nearly 4,700 member companies from the United States and 53 other nations. Founded in 1917, its members include direct marketers from every business segment as well as the nonprofit and electronic marketing sectors. Included are catalogers, Internet retailers and service providers, financial services providers, book and magazine publishers, book and music clubs, retail stores, industrial manufacturers and a host of other vertical segments, including the service industries that support them. According to a DMA-commissioned study, direct and interactive marketing sales in the United States are projected to have surpassed $2 trillion in 2002, including $126 billion in catalog sales and $34 billion in sales generated by the Internet. The DMA has a consumer Web site.
Interactive Marketing Solutions, a subsidiary of the Direct Marketing Association was organized in 2001 to help direct marketers comply with the requests of consumers who do not want to receive unsolicited marketing material via mail, email and/or telephone. IMS manages for the DMA, the world's largest consumer preference database of nearly 12,000,000 consumers. Additionally, as the processing arm of the DMA, IMS manages the "do not call" list for the states of Pennsylvania, Connecticut, Maine, Vermont and Wyoming. Included in the management services provided is the distribution of preference information and software to DMA members, direct marketers and DM service organizations for the sole purpose of removing individuals from prospect list in accordance with state laws and DMA membership rules.