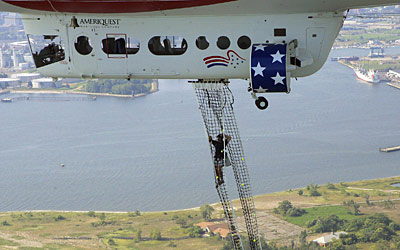 Would you run a football obstacle course on a moving freight train or play basketball with charging bulls . . . even if the sports reward was a gift for someone else?
These are the questions posed to three contestants every week as TWI's global format I'd Do Anything, debuts a sports version of the hit one-hour series airing on ESPN Tuesday nights at 10 p.m. (ET/PT) beginning September 28, 2004.
The reward going to someone else in "a unique twist on the competitive reality format," said Robert Horowitz, Senior Vice President and Head of TWI US. "You have contestants playing for everything from a NFL try-out to a Wrigley Field Cubs experience to even the opportunity to play in the World Series of Poker -- and they're all doing it for someone else. The contestants get absolutely nothing."
During the show, three contestants face off in challenging and extreme tasks grouped into the Pain, Shame, and Insane elimination-style competitions. Whether it's making a solo punt return without blockers against a pro football team, dropping soccer balls into a goal while strapped to a biplane in flight, or playing three holes of mini-golf covered in 150,000 bees, each competition is designed to test the limits, and the fears, of each contestant.
Hosted by George Gray, I'd Do Anything is based on TWI's highly successful British show of the same name. The series is produced under the ESPN Original Entertainment (EOE) banner in conjunction with TWI and Mess Media. Executive Producers are Robert Horowitz, Scott Messick and Steve Mayer.
TWI, IMG's television arm, is the largest independent producer, packager, and distributor of sports programming in the world, producing and distributing over 6,500 hours of original programming annually to more than 200 countries covering more than 200 sports.