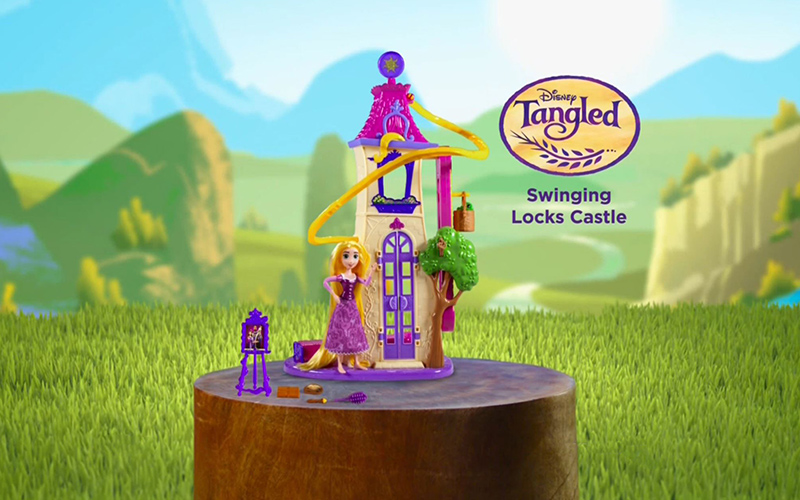 Disney Tangled Swinging Locks Castle - get tangled up in adventure, swing into fun, rapunzel is here, it's time to explore, Pascal are you ready to roll?
Disney's Tangled the Series uncovers Rapunzel's epic adventures on her journey to explore the kingdom of Corona and beyond. This line of dolls and fun-filled playsets encourages kids to play out exciting stories with Rapunzel, Eugene Fitzherbert, Royal Horse Maximus, and Pascal, and to create their very own hair-raising adventures. Join Rapunzel on royal adventures in Corona in her new home, the castle.
Comes with highly articulated Rapunzel doll and castle playset
Rapunzel doll slides down the zipline into her bedroom
Clip Rapunzel into her hair chair and she swings on the tree
Move Pascal figure up and down the castle in a pale
Spin the sundial to make the lanterns turn
Disney's Rapunzel is eager to seek adventure and discover her destiny both inside and outside the castle walls. The Swinging Locks Castle offers two sides of play in which kids can help the included Rapunzel doll slide down the zip line into her bedroom, swing in royal style, and move Pascal up and down the castle in a pale. The pale unclips and kids can replace it with Rapunzel in her hair chair. Move Rapunzel up to the second level where she can sit in her book nook. Spin the sundial at the top of the tower to make the lanterns whirl.
Recreate action-packed scenes of Rapunzel swinging around the the castle by her magical golden locks. Help her pretend to paint her dreams on the easel, or brush her luxuriously long locks in preparation for a day of royal duties. Play out Rapunzel's artsy and active adventures with an assortment of awesome accessories including a bed, brush, easel, paintbrush, and paint palette. Don't forget to bring Pascal along for all the adventures.
This playset's series-inspired details encourage kids to imagine action-packed adventures with their favorite long-haired, free-spirited, barefoot princess. They can collect Disney's Tangled dolls and playsets to let down their hair and discover their own unique destiny.